Greetings
Exploration beneath the waves is always risky. Some say water represents possible woe, difficulty or trouble in many idioms. For example, "pour oil on troubled waters", "jump of the deep end" and "between devil and the deep sea". Water often features in relation to some problem or snag and very deep water. Certainly, trite but true – it is important to "keep your head above the water" – or not too far underwater anyway.
Contents
1. Submersible catastrophe
2. Drones the Yarra – another submersed catastrophe
3. Sea Pilotage
4. Port Phillip Bay Steamers – Ozone, Hygeia and Weeroona – Invitation
5. First Glimpses of the Antarctic
6. Altona Pier
7. Great Port City on a vast a Bay – in recent times anyway
8. Reefs of Port Phillip Bay
9. Station Pier Advocacy
10. Visit Victoria – Perhaps shift in Focus?
11. Cunard News – new vessel
12. Inland Waterways – Dire situation
13. National Sustainable Ocean Plan
14. West Gate punt
15. Offshore and Specialist Ships (OSSA)
16. Australian Flag Shipping and Maritime Training
17. Steam Tug Wattle 90th Anniversary
18. Australian Mariners Welfare Society (AMWS) Malcolm Longstaff Memorial Scholarships
19. Penguins far from Home
20. Maritime heritage to be found in Cemeteries
21. Melbourne General Cemetery
1. Submersible catastrophe
The extraordinary global media coverage of this incident may have been quite sufficient for you but if you need an authoritative account, MMHN recommends an account offered by Academic Eris Fusil (The Conversation, 23/7):
The Conversation – Catastrophic Implosion
2. Drones the Yarra – another submersed catastrophe
MMHN – pardon the pun –finds it genuinely hard to 'fathom' how such a debacle could have occurred. As if there is not already enough pointless pollution in our waterways already. Journalist Patrick Hatch (The Age, July 16) writes "Yarra battery pollution fears after 350 drones fall into river in lightshow fail". Questions arise over the management of environmental risks as divers searched for around 350 lithium batteries from Docklands waterways at the conclusion of a lightshow at Marvel Stadium.
Organisers claim that the episode was not a risk to the public but Yarra Riverkeeper Association advocate Charlotte Sterrett referred the fallen batteries as containing pollutant toxic metals such as cobalt, nickel and manganese that will contaminate water supplies and ecosystems. See: The Age – River Keeper
If you missed this environmental disaster, no doubt there will be other events like it you might want to seriously watch out for, Wikepedia tells us: Drone art is the use of multiple unmanned aerial vehicles (drones), often quadcopters, flying in a coordinated fashion with light fixtures attached. They are usually equipped with multiple LEDs, and the display is held at night. The first drone display was presented in 2012 in Linz, Austria.
See:  https://en.wikipedia.org/wiki/Drone_art
3. Sea Pilotage
Maritime enthusiasts would generally agree that the sea has always offered inspiration for poetry – not just the sea itself but the coastline, harbours and beaches. Possibly the most famous example is John Masefield's Sea Fever:
"I must go down to the seas again, to the lonely sea and the sky. And all I ask is a tall ship and a star to steer her by…" It is rare though to encounter verse about sea pilots? A sweet simple poem "Ship's Pilot" by Gaylen K. Bunker about the complex works of sea pilot:
"So if you want a job full of thrills
Where life is at risk, without many frills
Then you can take charge and you can direct
Great ships and from their crews gain respect".
See the entire poem at Marine Pilots Poem – Gaylen K Bunker
We hope that this convinces you to accept the invitation below.
Sea Pilotage invitation
September 20 – 5.30pm – 7.30pm: 'Port Phillip Pilotage: A critical service' Port Phillip Sea Pilots (PPSP) will Panel present a Panel discussion covering topics including: History, Early Pilotage Service, Pilotage Services today, Future of Pilotage Service. As well as fascinating video footage, the PPSP will exhibit archives, artefacts and videos and there will ample opportunity to ask questions.
MMHN is grateful to PPSP for not only providing its venue and expertise but also offering participants refreshments afterwards. 622 Lorimer St, Port Melbourne September 20 – 5.30pm – 7.30 pm. Numbers are limited.
Please RSVP by 3/9 – info@mmhn.org.au

4. Port Phillip Bay Steamers – Ozone, Hygeia and Weeroona – Invitation
Turning now to the recreational side of Port Phillip Bay. You are invited to a fascinating presentation entitled "A Day on the Bay: the excursion paddle steamers of Port Phillip Bay" on August 22, 2023 at 10:30am to 11:30am.
Nayda Kelly will speak about the intriguing facts and stories she uncovered whilst doing her own family history research. Her grandfather worked for 30 years on the Weeroona, which was the last of the Port Phillip Bay excursion paddle steamers to be built. The big three of these elegant ships, Ozone, Hygeia and Weeroona were extremely luxurious with spacious promenade decks and impressive lounges and dining rooms. A day on the bay provided passengers with more than just a ferry service, with bands, dancing and other entertainment on board.
Attend in-person or via Zoom. An event to mark National Family History Month 2023.. Bookings essential. 
Contact: https://www.monlib.vic.gov.au/Whats-On/Events/A-Day-on-the-Bay-paddle-steamers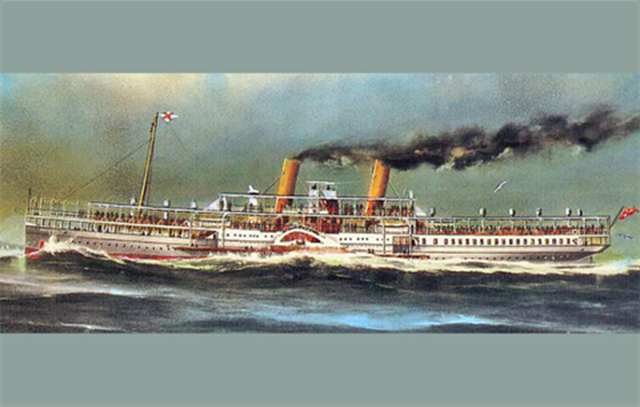 Image: Monash Libraries
5. First Glimpses of the Antarctic
MMHN congratulates Librarian Andrew McConnell on his extraordinary presentation entitled 'First Glimpses of the Antarctic' at the State Library during Rare Book Week.
Andrew referred to, and quoted from, rare works held by the State Library on Antarctic exploration during the 18th and 19th centuries. Even if you can't decipher the script or translate the texts, the illustrations in these works are simply astounding, The feats of endurance equally astounding, of particular interest to MMHN is the little known voyages out of Melbourne. Stay tuned – MMHN will endeavour to provide more detail in due course.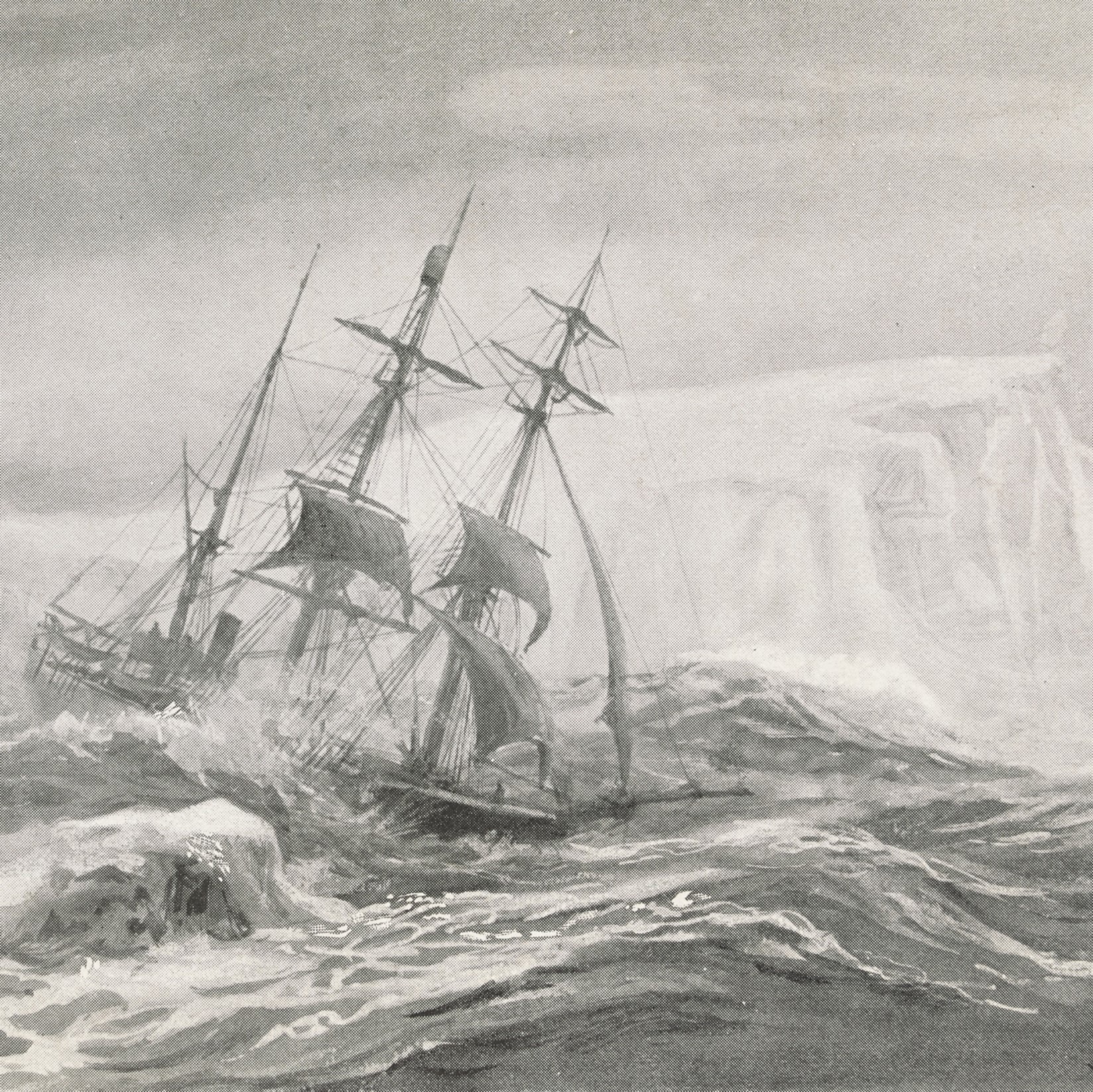 Image: SLV Bull, H. J. (Henrik J. (1896). The cruise of the Antarctic to the South Polar regions. Note the icebergs in the background creating treacherous wash.
6. Altona Pier
Loss of heritage maritime infrastructure is always sad. Deemed to be structurally failing – a familiar story? Built in the late 1880s for steam ferries and shortened over time the pier in at Altona Beach has long been a postcard-worthy spot. "The boardwalk is weathered and splintered, rusty old screws jut out at different angles and broken lights line its path."
Inadequate maintenance and neglect come to mind? MMHN notes that in mid-2020 prior to the redevelopment, Parks Victoria conducted community consultation which indicated "strong support for preserving original pieces and the iconic boardwalk look". Parks Victoria is upgrading the original 400-metre pier, as part of an $11.9 million state government initiative. No great comfort but reusable pier timbers will be salvaged to provide "a lasting connection with the past".
See: ABC News – Altona Farewells Historic Pier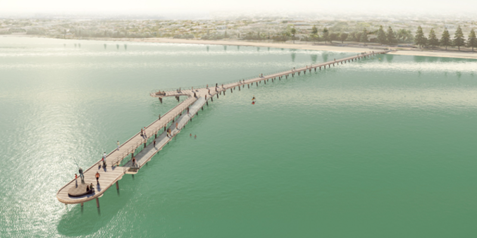 Image: Parks Victoria
7. Great Port City on a vast a Bay – in recent times anyway
The evolution of history of Melbourne's major waterways continues. What we see now is indeed impressive and unique in Melbourne but the 'back story' of what you see now of the today's waterways warrants attention. To gain a better understanding of the waterways 'back story', MMHN highly recommends a visit to the excellent free exhibition currently at the Old Treasury Building entitled 'Yarra- Stories of Melbourne's River'.
See: https://www.oldtreasurybuilding.org.au/whats-on/exhibitions/
The images presented clearly remind us that indeed "Melbourne's Yarra River looks placid most of the time, but it is a river with a turbulent past". The images also provide a glimpse into just how important the river has been in the evolution of Melbourne as the major port in the South.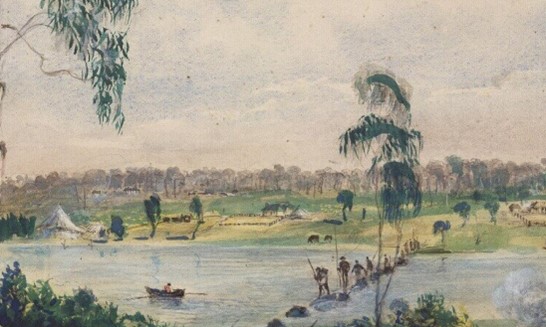 Image: Old Treasury Building website
The even further 'back story' of the river is less well known but equally fascinating. The Yarra River is described as an "ancient watercourse" which "evolved slowly in response to major climate events. Its silt-laden course once meandered through large areas of wetland to meet Port Phillip Bay just below the site of today's CBD – the end of a 242 km journey from the Great Dividing Range". In years of high rainfall, the Yarra burst its banks and spread out over the landscape near Melbourne, filling the wetlands before reaching the sea.  The Birrarung – Yarra River flowed across what we now see as the vast Port Phillip Bay, but which was formerly a wide grassy plain that was a good hunting ground for emu and kangaroo. This plain, a shallow basin, dried out between 2,800 and 1,000 years ago.
Speculation is that a sand blockage occurred closing what we know call The Heads. This blockage, coupled with high evaporation rates, led to the creation of the plain inland from the sea. Channels made by the rivers running through the dry plain to the sea are still evident on the sea floor of the Bay today. A core profile collected by drilling into the seabed today reveals the layers of sediment. Then, around 8000 years ago, with rising sea levels, the sea broke through the great plain creating Port Phillip Bay and the Yarra estuary. Tides flooding upstream up the river as far as the rocky ledge carved out a natural turning Basin below the rocky ledge which assisted early shipping turn around to sail downstream into the Bay. The Boon Wurrung and Wurundjeri people have many different stories about how their country, including the bay, was formed.
See:  https://deadlystory.com/page/culture/history/Great_flood_causes_Narrm_Port_Phillip_Bay_to_form
Now Melbourne's large and sheltered Port Phillip covers some 1,930 square kilometres, 35 times greater area than Sydney Harbour.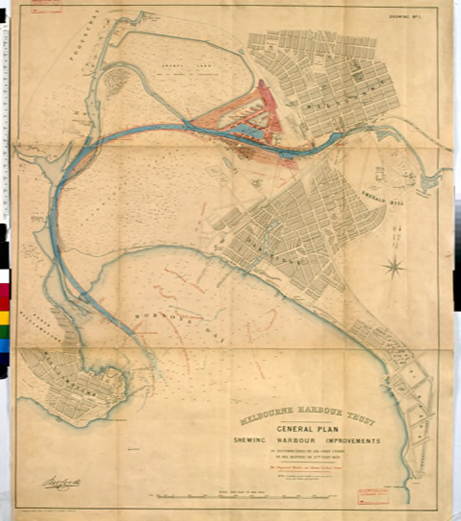 Image: PROV
8. Reefs of Port Phillip Bay
Rip Bank is a 100m deep trench and the ancient path of Melbourne's Yarra River. Within around 800 meters of the heads, there is a shallow rocky flat known as the Rip Bank. The inequality of depth combined with extremely fast tidal streams which can reach over 6 knots. Port Phillip was home to an extensive oyster and mussel reef system that supported a vast range of other sea life including not only a variety of marine animals, but also the sponges and seaweeds necessary to form a habitat and a thriving reef.
The Heads The entrance to Port Phillip Bay in Victoria is considered one of the world's most treacherous sea passages, flanked by kelp lined rocky reefs and hidden pinnacles on which many ships have fallen victim. This 2 km wide entrance can be extremely wild with ripping currents and breaking swells.
The Rip is a 100m deep trench and the ancient path of Melbourne's Yarra River. Within around 800 meters of the heads, there is a shallow rocky flat known as the Rip Bank. The inequality of depth combined with extremely fast tidal streams which can reach over 6 knots. The currents here dictate this dive only be conducted on a slack water at the end of the ingoing or flood tide and even then, only when conditions are calm outside the bay.
Great Southern Reef Foundation (GSRF)
The vision of the Great Southern Reef Foundation is to connect, educate and inspire society to become active stewards of Australia's kelp forests.
As defined by GSRF "the iconic forests of golden kelp (Ecklonia radiata), the Great Southern Reef (GSR) is an interconnected underwater system fringing more than 8000 km of Australia's southern coast; from Kalbarri, Western Australia to the NSW/Queensland border.16 million Australians' live within 50km of the GSR yet few know it exists. Many can't picture what kelp forests look like, and few appreciate the value or importance of these ecosystem from an environmental, economic or cultural perspective."
See:  https://greatsouthernreef.com/about
Marine life in the Great Southern Kelp Reef –  MMHN recommends that you check the website – you will be astounded: Weird and wonderful inhabitants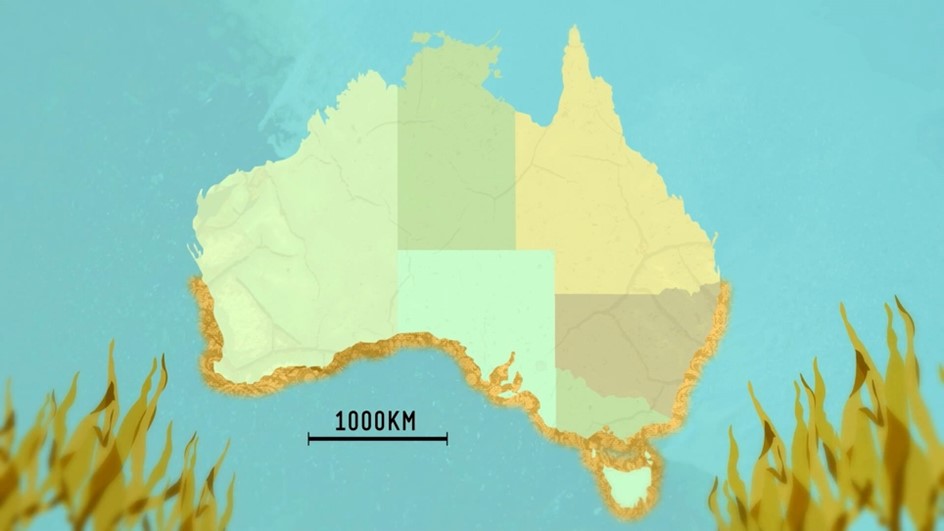 Image: GSRF website
9. Station Pier Advocacy
MMHN advocates strongly that Victoria is squandering significant maritime infrastructure and economic driver by failing to upgrade our cruise terminal at Station Pier. MMHN has strongly advocated that Station Pier be re-imagined in order to not only recognise and preserve its heritage but also optimise its economic potential. See: MMHN Station Pier Opportunity PDF
MMHN continues to meet with relevant ministers and agencies highlighting the dire situation. It's dirty, decrepit and altogether shabby appearance indicates that it is the worst cruise terminal in the developed world The reputational risk this gateway to Melbourne. This key state asset s literally falling through the crack- two Ministers share responsibility but appear reluctant to pick-up this serious matter and 'run with it".
MMHN together with the Beacon Cove Residents group, has recently proposed that the Minister for Tourism create an Inter-departmental Steering Committee to actually do some to kick start the necessary action. Obviously, the City of Port Phillip is a major stakeholder in the entire Station Pier Precinct. MMHN will to meet the Mayor of Port Phillip Cunsolo early in August to discuss the dire state of this magnificent but neglected maritime heritage assets.
10. Visit Victoria – Perhaps shift in Focus?
MMHN is pleased to note a slight but welcome step forward. Shifting slightly from its usual focus on "Regional Victoria" while the gateway to State degenerates, Visit Victoria, in partnership with Tourism Greater Geelong and the Bellarine, Great Ocean Road Tourism and Glenelg Shire, is hosting Cruise Industry Workshops in late July 2023. Even a workshop in Melbourne is being offered. The workshops will bring together industry leaders, including cruise line executives, Inbound Tour Operators (ITOs) and the Australian Cruise Association, to share an update on the Melbourne and regional ports of call for the 2023/24 cruise season, tips on developing products for shore excursions, how to work with cruise lines and ITOs, and trends in the cruise industry.
All very welcome news – but Station Pier remains an underwhelming eyesore with the cruise season not far from commencing, MMHN attempted to participate but the event was booked out. A good sign!
11. Cunard News – new vessel
Due to be launched in 2024 the new Panama registered vessel Queen Anne will be the 249th ship in the180 years of the Cunard Line.
Queen Anne will make up a remarkable quartet alongside Queen Mary 2, Queen Victoria, and Queen Elizabeth Construction images on the website are fascinating. eg.installing the intact funnel.
See: https://www.cunard.com/en-au/inspiration/queen-anne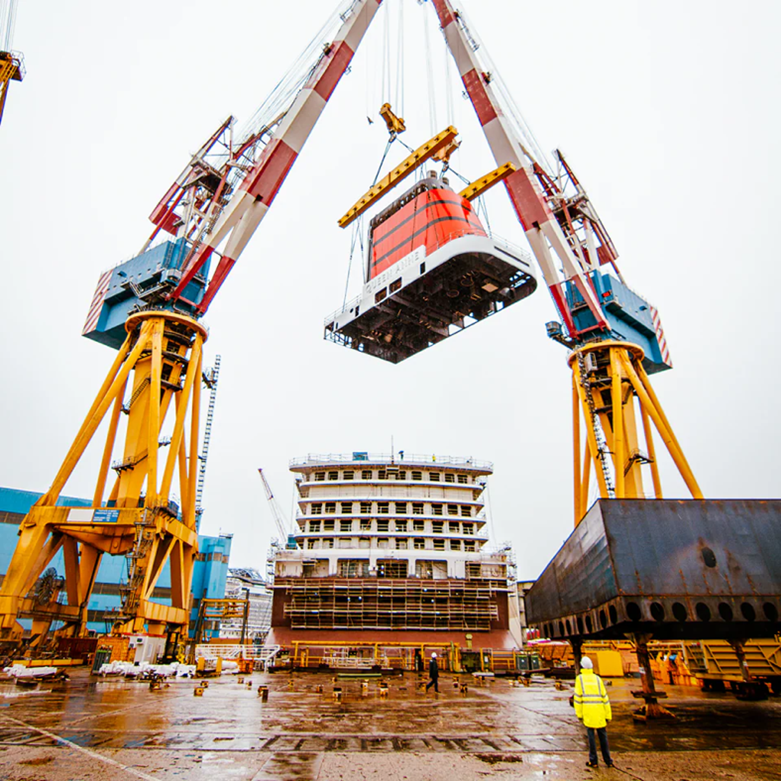 Image: Cunard website
12. Inland Waterways – Dire situation
Maritime enthusiasts need no reminding that inland waterways have been of immensely important to the emergent prosperity of our nation. Two member organisations of Maritime Museums of Victoria are located on the Murray. It would be remiss of MMHN not to alert the network to the dire situation threatening the mighty Murray basin. With so much attention on devastating floods in recent years it distracts us from considering the arguably main water 'artery' of this continent. Andrew McConville, out-going CEO Murray–Darling Basin Authority address to the Press Club is well-worth a close reading.
See: National and Rural Press Club Address – Waterways
The management of the Murray Basin has been, and still is, is critical to our prosperity, "The Murray–Darling Basin is both an economic and an ecological powerhouse": home to 16 internationally significant wetlands, 35 endangered species and 120 types of waterbirds. More than 2.3 million people live in the Basin. The Basin's rivers and groundwater networks also support an agricultural sector worth $22 billion each year. Tourism related to the Basin delivers around $11 billion each year. It's a geographically immense area– stretching across 1/7 of the Australian land mass – most of NSW, parts of Qld, SA and Victoria, and all of the ACT. It includes the Murray River and Darling River/Baarka and their tributaries. There are around 40 indigenous nations across the Basin. Ponder – daily inflows into the Murray River system for November are seven times the long-term average. Rainfall was the highest on record for October for large parts of the Murray–Darling Basin in New South Wales, Victoria and Queensland. But its all about 'management'. Academic Jamie Pittock (The Conversation, July 18) reminds us that a decade ago a federal $13 billion Murray-Darling Plan would "rein in the water extracted by farmers and communities, and make sure the environment got the water it needed". The Murray Darling Basin plan yet less than a year from the plan's deadline, "it's in a dreadful mess". 
See also:  The Conversation – Murray Darling Basin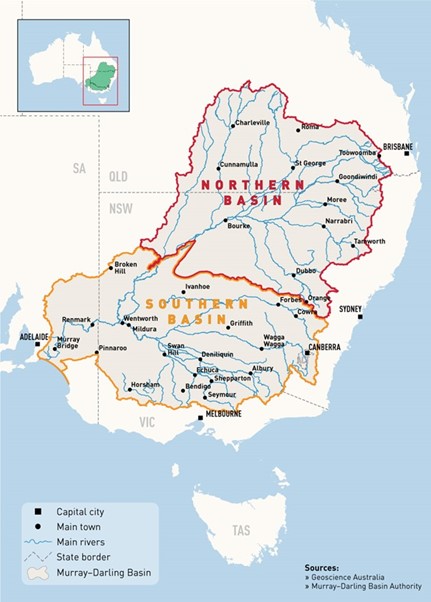 Image: Murray-Darling Basin Authority: Map of Murray-Darling Basin
13. National Sustainable Ocean Plan
Inaugural Ocean Business Leaders' Summit in Sydney on 1 March 2023, Minister for the Environment and Water The Hon Tanya Plibersek MP announced the development of a White Paper on the a National Sustainable Ocean Plan as a 'roadmap' to help determine "the kind of future we want for our oceans". We can but hope that this plan is more successful than the plan for our major inland waterway – The Murray-Darling Basin Plan.
See: https://oceandecadeaustralia.org/summit-white-paper
14. West Gate punt
MMHN notes that punts and ferries were plentiful on our waterways prior to the many bridges which now span the Yarra. We continue to staunchly advocate for all forms of waterways transportation.
We were heartened to note the traffic snarl to the west of the city has raised the public profile of the 20-person punt crossing beneath the Westgate from Spotswood. The journey costs $3 weekdays and $5 on weekends. How wonderful to see such transport option flourish once more around our congested city.
Heading for the CBD go to Spotswood Jetty car park, hop on the punt with or without your bike and disembark across the water at Fishermens Bend. You can cycle the 6 kilometres into the CBD or simply a walk 10 metres to the bus stop.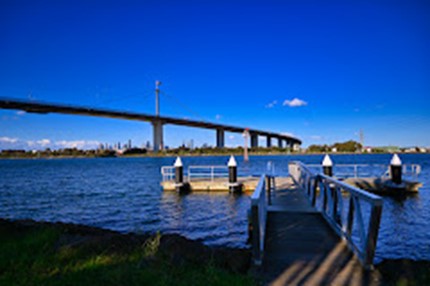 Image: Spotswood Jetty Westgate Punt website
15. Offshore and Specialist Ships (OSSA)
Be prepared to be 'lost at sea' for hours. MMHN highly recommends a visit to OSSA website to access a marvellous collection of maritime images and podcasts and virtual tours of ships on the OSSA website.
See: https://offshorespecialistships.com/ossas-podcasts/ and https://offshorespecialistships.com/photos/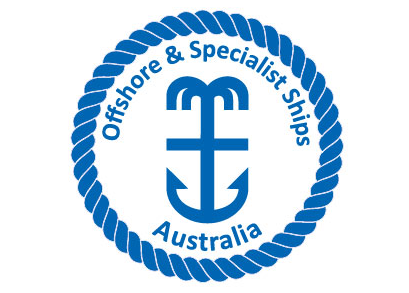 16. Australian Flag Shipping and Maritime Training
OSSA reports on a recent and highly significant meeting at the Melbourne Port Authority HQ convened by MIAL and AMMA, for industry, authorities, various bodies and individuals with an interest in the Maritime Industry met by invitation from a last week to discuss all problematic aspects of maritime training. Specifically matters raised were:
Effects of the Federal Government proposal for an Australian Flagged Strategic Fleet on the current limited manpower resources available
Acknowledgement of the imminent threat that without a comprehensive maritime training plan designed to address the current maritime training deficit, the future Australian maritime workforce will be bereft of all maritime skills across the spectrum.
A crisis looming confronting the conventional Marine Industry and new industries. Offshore Wind Farm industry in this country is in its infancy but stands to be of vital importance in the renewable energy market and OSSA stands ready to contribute in every way possible to ameliorate the training including advocacy at government level. and by use of OSSA's now tried and tested Schools Maritime Careers Programme at every opportunity.
Discussions were expertly facilitated b industry professional Tony Cousins. The calibre of participants clearly revealed the depth and the seriousness of predicament Australia faces concern across the entire maritime sector. Peter Barrow represented OSSA sharing his expertise after a working life dedicated to HR and training within the maritime industry. However, it was puzzling to note that Marine Colleges were not represented at the event. Various ideas were mooted including some form of levy on all end users of maritime expertise and skills; and potentially creating a national body or agency to promote, facilitate and administer recruitment and training of individuals.
Important to note: The Strategic Shipping Task Force appointed by the Federal government has completed its Report and submitted it to the government. Hopefully we will have a response in the near future.
17. Steam Tug Wattle 90th Anniversary
On a blustery freezing cold Melbourne Sunday it was heartening indeed to see so many Wattle supporters at this milestone event. Wonderful too to see the Wattle in fine form fired-up and the tooting on Victoria Harbour.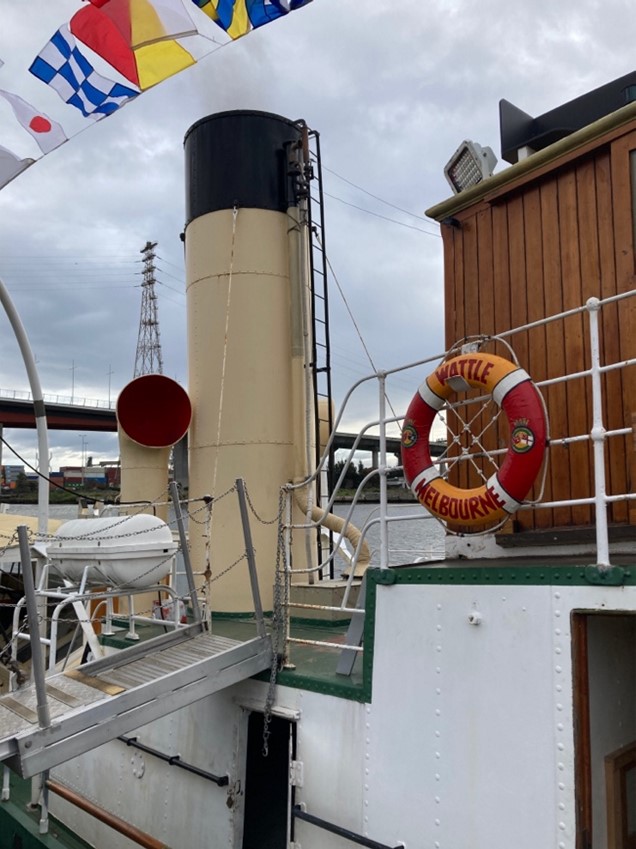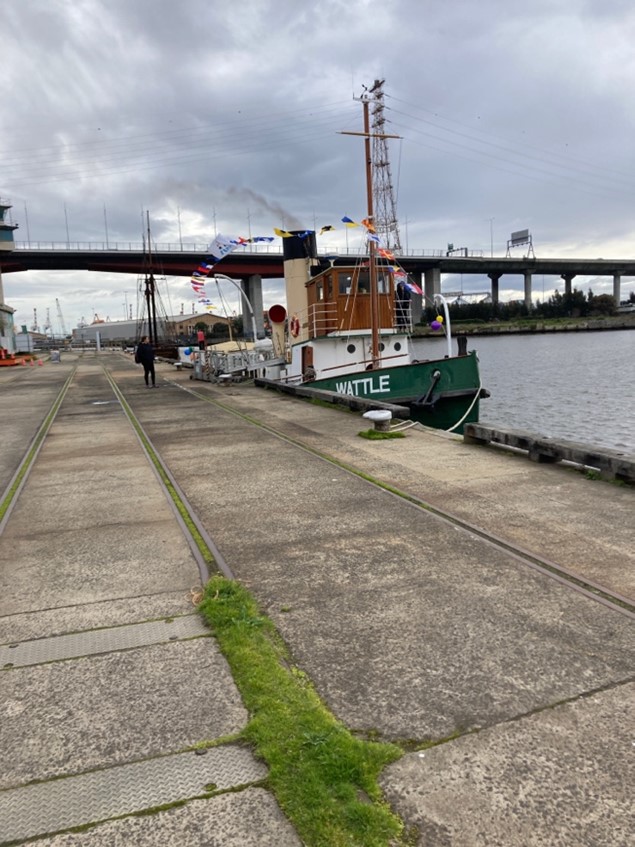 Images: Jackie Watts
18. Australian Mariners Welfare Society (AMWS) Malcolm Longstaff Memorial Scholarships
MMHN is committed to raising awareness in young people about maritime industry careers. We are delighted to share information about of the Malcolm Longstaff Memorial Scholarships administered by the AMWS. A reminder that the Australian Mariners Welfare Society (AMWS) is a non-profit organisation that provides financial assistance to those organisations providing welfare services to seafarers visiting Australia and provides scholarships to promote the training and professional development of the children of seafarers or ex-seafarers of low or moderate financial means and who are Australian citizens or hold a humanitarian visa. The AMWS offers scholarships to assist students undertaking courses in relevant maritime disciplines. The scholarships are offered as a memorial to Malcolm Longstaff who was a stalwart of the AMWS Council and contributed significantly to seafarer welfare and to those studying to become mariners or upgrade their existing seafaring qualifications.
Two scholarships are available for application in Semester 1 and 2 each year. (2 new awards per semester, duration 1 semester)
Eligibility criteria
Available to a student enrolling in a relevant maritime course at a recognised maritime training college. Applicants must be Australian citizens (or holder of a Humanitarian Visa), and be children of seafarers or ex-seafarers (that are or were involved in the military or merchant navy or deepsea fishing industry) and be of low or moderate financial means (details to be given in an online application). In reading this please note:
"Relevant maritime course" refers to blue water maritime courses and also maritime operations and coastal seafaring courses such as certificate courses for coxswain, maritime operations (integrated rating) and marine engineering (near coastal).
The expression "Seafarers and ex-seafarers" applies to anyone who earns or has earned their living from the sea; they are employed or could have been employed on cruise vessels, coastal trading vessels, tugs, pilot boats, ferries, dredges, off-shore supply vessels, the deep sea fishing industry and in the RAN .
Amount: $3,000 per student Duration: One semester Closing dates: Semester 2, 2023 closing date 30/9. Semester.1, 2024 closing date 28/2. On-going Eligibility: To retain this award, recipients are required Pass all units studied each semester.
See: https://www.marinerswelfare.com/maritime-scholarships.html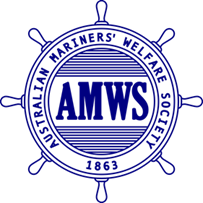 19. Penguins far from Home
An emaciated penguin unexpectedly washed up at Esperance in WA when it should have been almost 4,000 kilometres away on the west coast of New Zealand's South Island, ready for breeding season. Within a week two more had come ashore. It is estimated that these birds had been at sea since February or March. These birds should all have been almost 4,000 kilometres away on the west coast of New Zealand's South Island, ready for breeding season. Wildlife carers provided critical care to the three lost penguins. Experts speculate that a warming ocean may have created changes that were difficult for the birds, particularly the young penguins, to negotiate. For example, the bird's food sources may have gone elsewhere or dived too deep for them to follow. Once fattened the birds will be released in to the wild.
The Fiordland penguin (Eudyptes pachyrhynchus), also known as the Fiordland crested penguin (in Māori, tawaki or pokotiwha), is a crested penguin species endemic to New Zealand. It currently breeds along the south-western coasts of New Zealand's South Island as well as on Stewart Island/Rakiura and its outlying islands.[ Because it originally ranged beyond Fiordland, it is sometimes referred to as the New Zealand crested penguin.
See: https://en.wikipedia.org/wiki/Fiordland_penguin
20. Maritime heritage to be found in Cemeteries
MMHN recommends that when next in Sydney visit an exemplary maritime commemorative precinct in the Eastern Suburbs Memorial Park managed by Southern Metropolitan Cemeteries NSW. 
In May 2016 a series of statues were installed in this section to commemorate the First Fleet, with 12 of the 746 monuments in the park recording people who arrived on the First Fleet. Many upright stone plinths provide much detailed information representing genuine acknowledgement that maritime heritage really matters and is worthy of investment.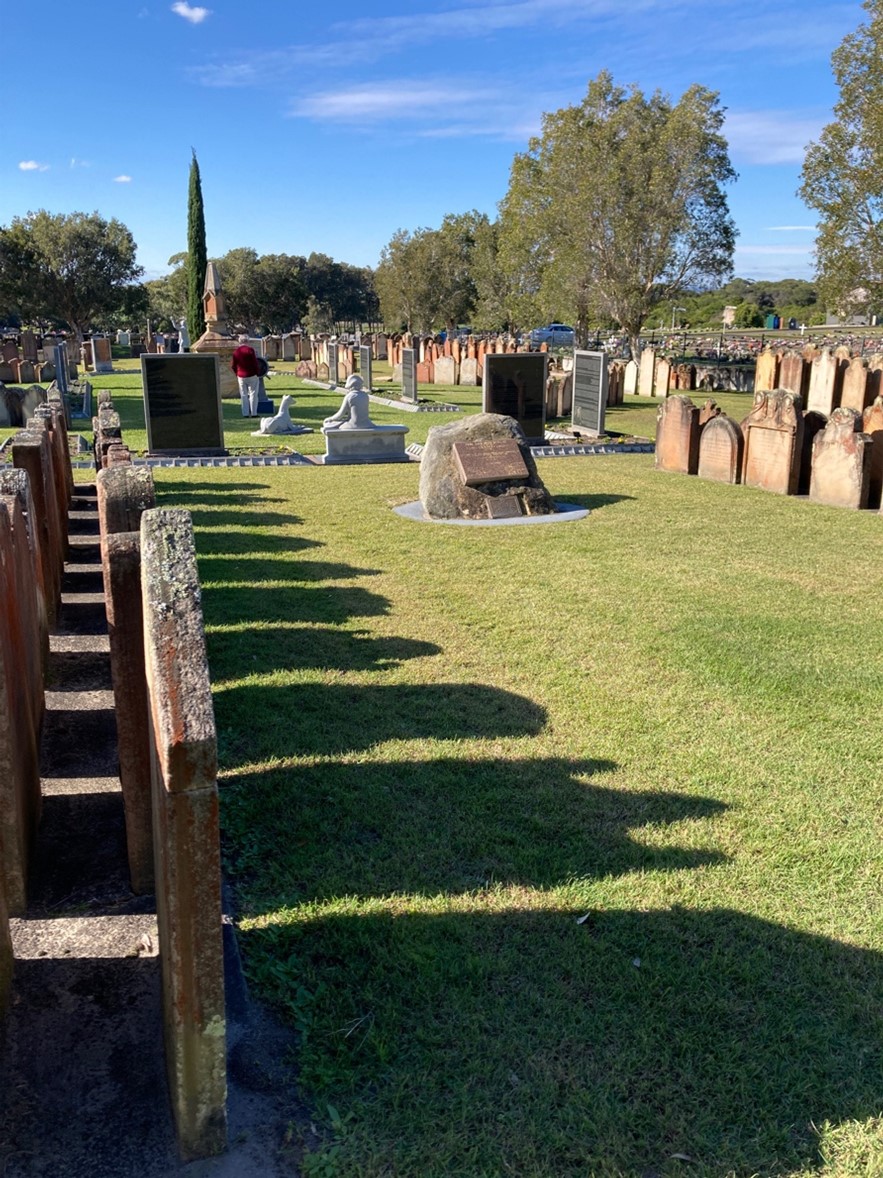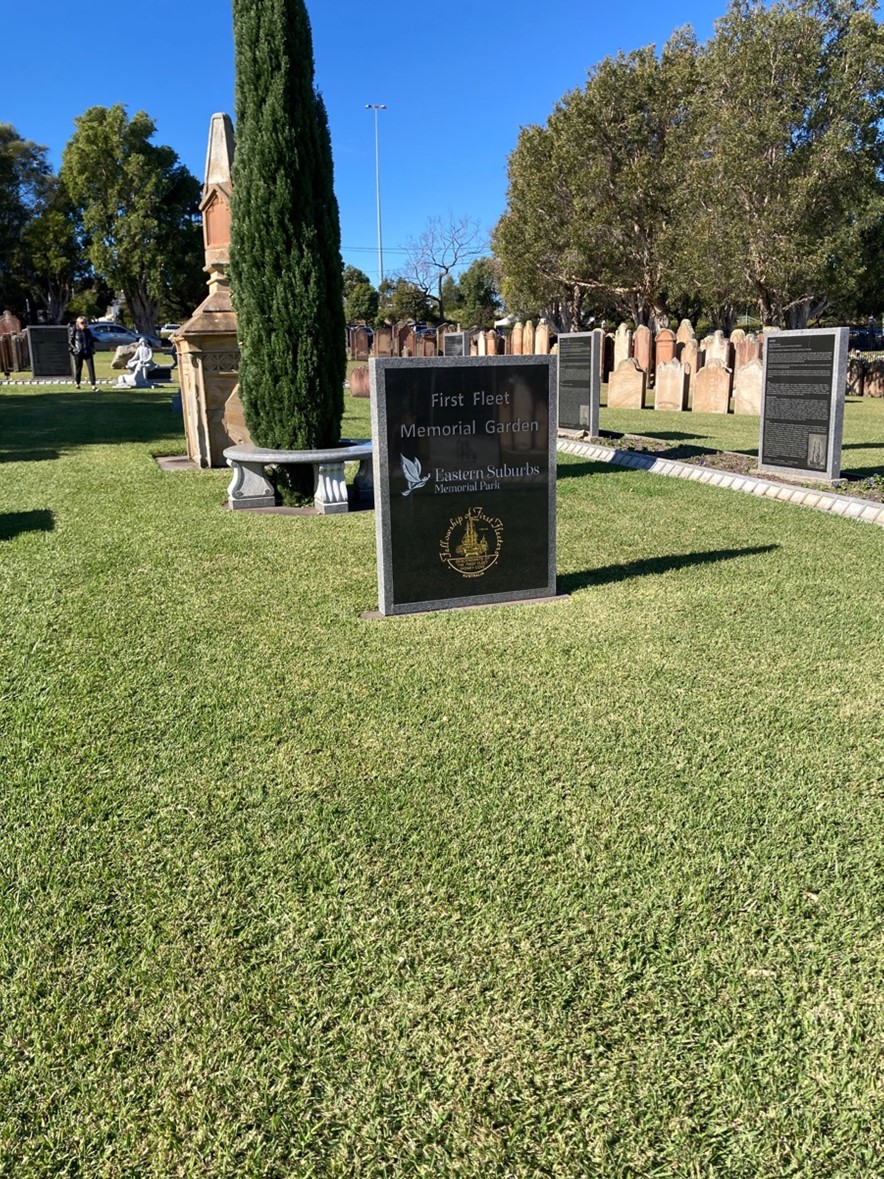 Images: Jackie Watts
21. Melbourne General Cemetery
A Cemetery Closer to home: from time to time MMHN has included graves relevant to maritime heritage dotted around Melbourne General Cemetery. Here our latest discovery – Sea Captain and Free Spirit Erik Erikson and his wife Maude, the ballet dancer?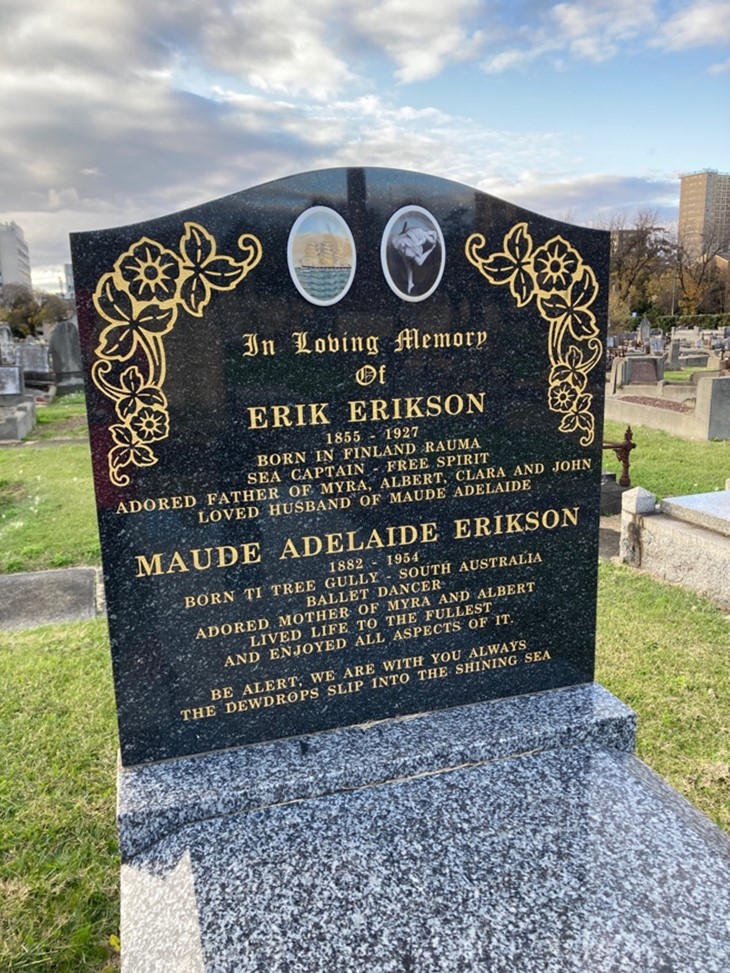 Image: Jackie Watts
We commenced this update with poetry – and we conclude by sharing a lovely poetic inscription found on this Erikson headstone above.
"Be alert, we are with you always
The dewdrops slip into the shining sea"
Until next time,
Jackie

Dr Jackie Watts OAM
Chair,
Melbourne Maritime Heritage Network