Greetings all
Our thoughts in these winter months turn towards escapism – through maritime books!
Contents
1. Maritime opportunities during Rare Book Week July 21-29
2. The Yachties – Volunteers
3. Invitation: Polly Woodside
4. Maritime Book Specialists
5. Australian Heritage Council
6. Artefacts from wrecks and back yards!
7. Historic Vessels List
8. Warehouse Under threat – again
9. Duke and Orrs Dry Dock – not threatened quite yet
10. Ghost Net Action
11. Tackling Fishing Tackle
12. Shrinking Fish
13. Oyster Farming in Victoria
14. Whales – Good News
15. International Waters
16. Pacific Islands, Australia, New Zealand – Policy
17. Inspirational Heritage Waterway Infrastructure Restoration – Netherlands
18. Cruise Industry – Station Pier
19. Heritage Victoria (HV) – a wonderful month of Maritime Archaeology
20. Ferry News
21. Great Ocean Road
22. Port Welshpool
23. Seaworks – well done
24. MMHN Advocacy
1. Maritime opportunities during Rare Book Week July 21-29
The Rare Book Week program includes fascinating presentations of interest to maritime enthusiasts:
22 July, 2pm 'Charting the Heavens -The transit of Venus, James Cook and Astronomy' at the State Library
24 July, 10am 'First Glimpses of Antarctica' at the State Library
26 July, 5pm 'The Bounty and Beyond' at the Athenaeum Library Level 1 188 Collins St.
And finally – Who knows what remarkable works you will find at the 51st Australian & New Zealand Antiquarian Book (ANZAB) Fair at Wilson Hall Melbourne University. For first time visitors to the fair a guided tour is offered this year.See: Rare Book Week and Rare Book Fair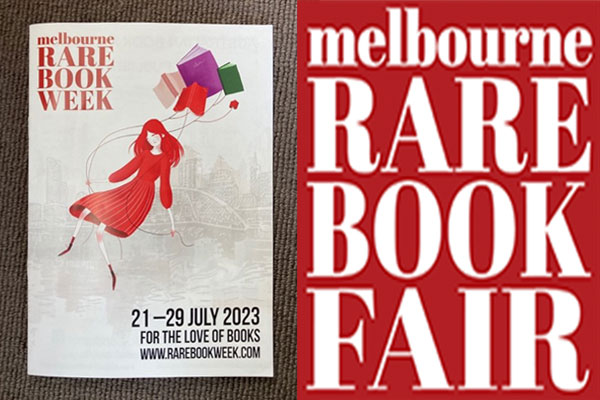 2. The Yachties – Volunteers
We all know what an invaluable resource volunteers are to the Maritime Heritage sector. Janet Roberts Billett adds immeasurably to our understanding of what exemplary volunteer service really is in her fascinating book The Yachties: Australian Volunteers in the Royal Navy 1940 – 1945 which presents the untold history of those experienced Australian Yachties who volunteered to support the Royal Navy in Europe.
Most appropriately, on the Anniversary of 'D Day', MMHN Board member and Senior Navy Officer in Victoria Greg Yorke launched the book at the RHSV eloquently describing the service of these patriots. Have a close look at the left of Greg in this image – it is the actual battle plan for the Allied invasion of the beaches of France in which the 'Yachties' played a role. Australians are generally more familiar with naval action in the Pacific than with the Australian Yachties' valiant action in Europe, which is well known in the UK, but not so here.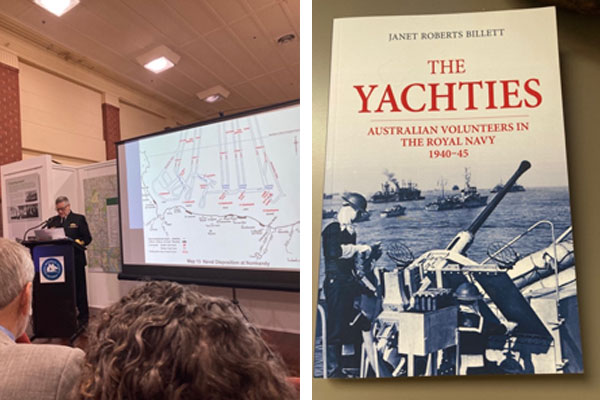 Image: Jackie Watts MMHN Board member Greg Yorke launching the book at RHSV
3. Invitation: Polly Woodside
More about critically important volunteers in maritime sector, a special attraction at the Polly: open Sunday 2nd July, 2023 between 2pm and 4pm. The National Trust invites you to either explore the vessel at your own pace or join 45 – 60 minutes tours at 10.30am, 11.30am, 1.30pm and 2.30pm.
BUT ALSO meet Denis Robertson. Denis has written a biography entitled of his father, 'E. Graeme Robertson'  who led the restoration of the Polly Woodside between 1968 and 1975. The work of the many people who contributed to the success of the restoration project is recorded in the book.
Denis will be available to answer any questions you may have and sign any books purchased.
Bookings: https://www.nationaltrust.org.au/places/polly-woodside/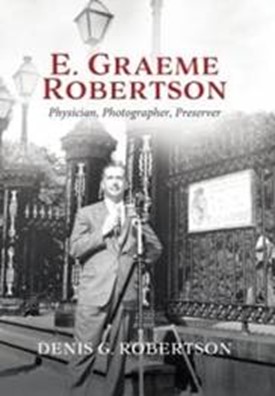 4. Maritime Book Specialists
Trawling through the on-line catalogues of maritime book specialists is always rewarding:
See: Maritime Book Stores; Burgewood Books
Queenscliff bookshop 'For Pete's sake' is reputedly the largest collection of maritime books in Victoria: For Petes Sake
Boatbooks Australia:  Boatbooks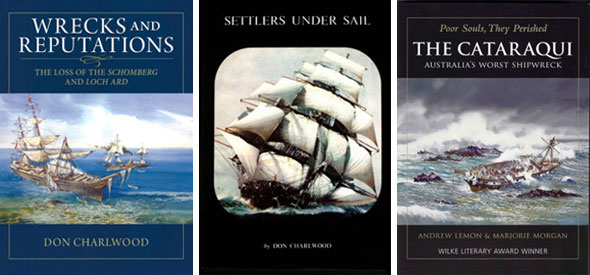 Image: MMHN Member, Doreen Burge, Burgewood Books provided these glorious images from Burgebooks catalogue.
5. Australian Heritage Council
MMHN was invited to a recent gathering convened by the Chair of the Australian Heritage Council, The Hon Ted Bailleu bringing together the State Heritage Council and a range of heritage bureaucrats and stakeholders. MMHN was pleased that maritime heritage was recognised in this way. We look forward to greater proactivity and collaborative endeavour from those officially tasked with preserving heritage assets across this nation – including maritime heritage assets. Australia is after all an island nation. Regrettably protection of our national heritage assets too often 'falls through the cracks' of poorly or inconsistently managed state or federal jurisdictions.
The Australian Heritage Strategy dates from 2015. It "sets out Australia's national heritage priorities and a strategic direction for its future. The vision of the strategy is that our natural, historic and Indigenous heritage places are valued by Australians, protected for future generations and cared for by the community." It has clearly failed – much has been squandered. See Australian Heritage Strategy. However, there appears to be progress. MMHN is pleased to note that work is being done on revise our National Heritage Strategy. Not a moment too soon!
6. Artefacts from wrecks and back yards!
MMHN is delighted when maritime enthusiasts share news or seek information about artefacts. Several examples below:
Veteran diver Peter Ferrier sent images of crockery from a dive to the vessel Isabella Watson circa 1850. MMHN thanks the Nepean Historian Society quoting The Argus 23/3/1852 information on the vessel " Inward bound from London with 50 passengers, struck a sunken reef off Point Nepean, probably Corsair Rock, losing her rudder and then capsizing, in a violent squall 9 died when the mizzen mast fell across a ships boat and overturned it. Pilot Tobin swam out to the wreck with a line and about 60 passengers and crew were landed. A further 8 were landed by ship's boats, including two saved from the ill-fated boat. Attended by the steamer Aphrasia". See: Nepean Historical Society.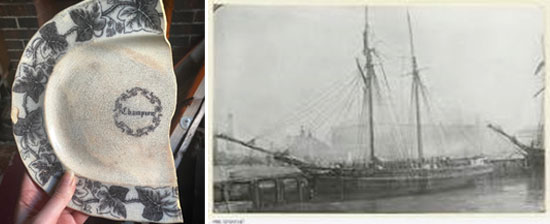 Image: Plate From the vessel Champion, Peter Ferrier
Another maritime enthusiast contacted MMHN recently about a sea mine found on a property near Belmont, Geelong. Experts advised MMHN that it is likely to be an ex-British Mark 17 WW2 Contact Mine with the 'horns' removed probably dating from WW2 but more than likely produced in the post-war years.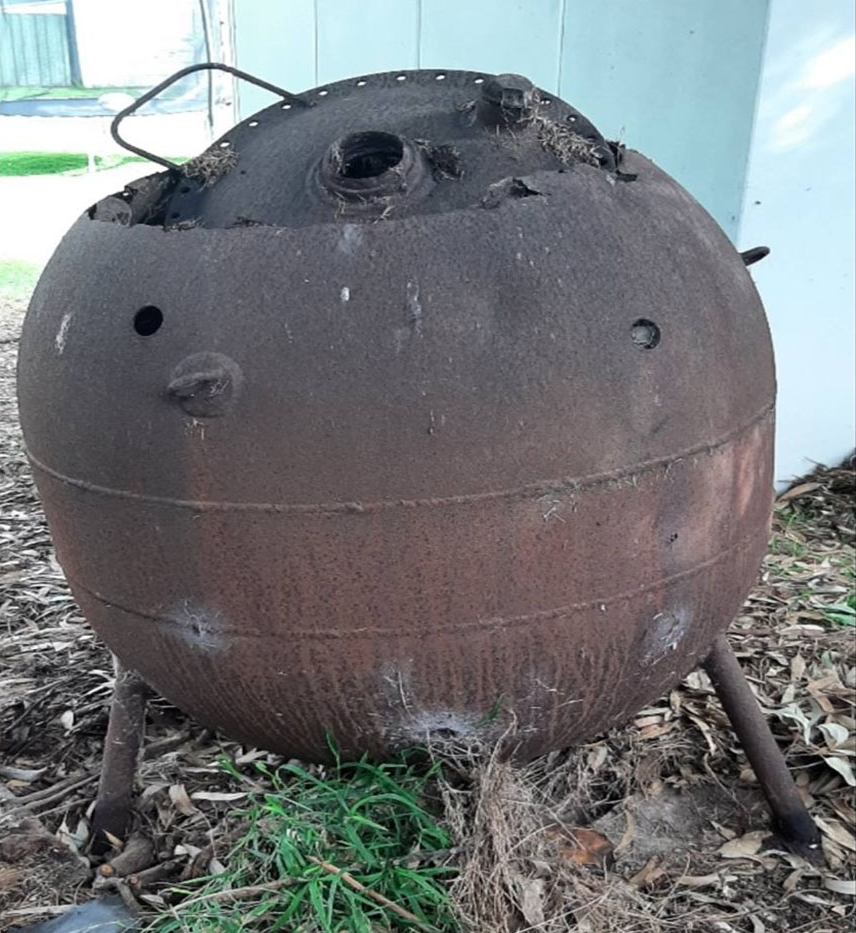 Image: Sea Mine, Lisa Martinez
This beautiful Bookplate below was recently books donated to the Royal United Services Institute of Victoria Library. It depicts the vessel Sydenham – barque, 1063 tons, Miller, from London. The vessel, was upon her former visit, under charter to the New Zealand Shipping Company. This detail in this image has EVERYTHING – the wind, the waves, the sails set and furled, the compass – but of Arthur N Gately – we know very little.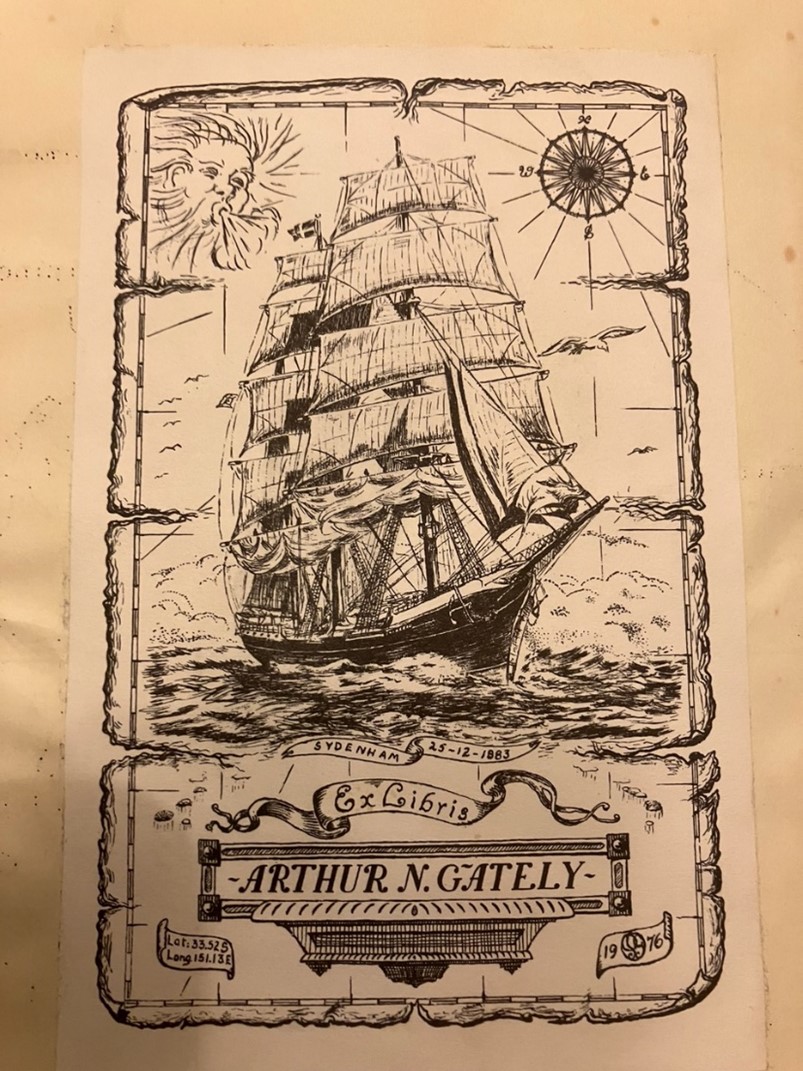 Image: Royal United Services Institute of Victoria Library
7. Historic Vessels List
MMHN is aware that comparatively few maritime enthusiasts Victorian are engaged with, or even aware of the existence of Register of Historic Vessels. See: Sea Museum
The Register is compiled by the Australian National Maritime Museum (ANMM). Over 800 historic vessels are listed on the website with background information on designers, builders and owners, referring to geographical location, aspects of their type or class, the eras their life has spanned, and stories which give further context to each vessel listed.
However, there appears to be a clear under-representation of heritage vessels from Victoria. Why might this be? Is it because no one knows about the Register therefore few Victorian heritage vessels are nominated? Or is it simply a unfortunate maritime manifestation of 'Sydneycentricity' resulting in more NSW vessels being nominated?
MMHN is currently in discussions with the Victorian representative of the Historic Vessels List Selection Committee about ways to formulate ways of addressing this situation. Thoughts anyone? Please email: info@mmhn.org.au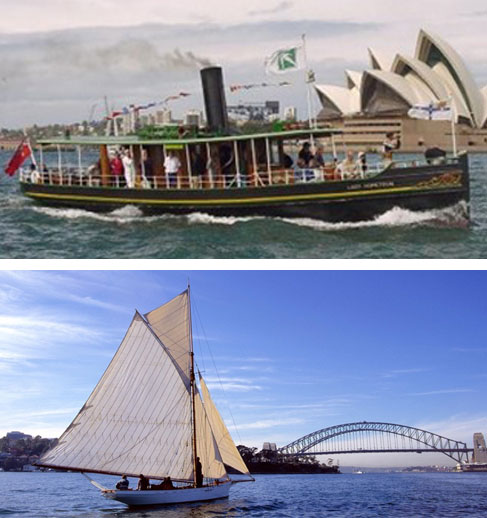 8. Warehouse Under threat – again
Fish are not the only assets under threat! A significant example of Southbank maritime heritage infrastructure is attracting developer attention. MMHN congratulates National Trust for its advocacy in defensive of this important landmark building and applauds Heritage Victoria in refusing another permit application, this time for the construction of 7 integrated towers up to 27 storeys high on 3 sides of the warehouse.
The Robur Tea Building (H0526) was placed on the Victorian Heritage Register in 1982, and it was for many years one of the tallest buildings outside the CBD, its height and freestanding character making it a South Melbourne landmark even today. The National Trust (B6083) also classified the building at the state level of significance. This is the 2nd attempt by developers to inappropriately exploit this sensitive site. An earlier application was refused in 2018 for construction of a 24 storey tower. The developer has the right to appeal the decision within 60 days. See: Robur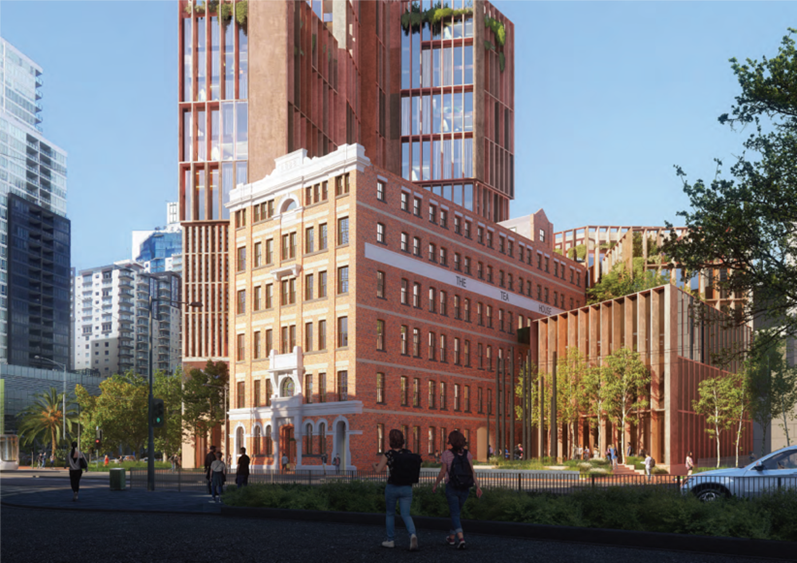 Image: Snohetta (via Heritage Victoria) Render of the proposed development around the Tea House looking along Clarendon Street.
9. Duke and Orrs Dry Dock – not threatened quite yet
MMHN is grateful to Derek Moore and Miles Pierce for allowing heritage stakeholders to see inside the pumphouse to see the magnificent machinery which once drove the waters to and fro when the dry dock operated.
This Heritage-listed pumphouse and dry-dock complex is the last remaining on Southbank is the property of the State Government. Derek and Miles volunteer their time and expertise, saving the State government expenditure in maintaining this infrastructure several times each year. Thanks to Heritage Engineers of Victoria for accurate technical information displayed outside and inside the pumphouse complex. Note the massive boilers powering pumps were actually made in Melbourne (see red plaques in the photo below).
It is remarkable – actually commendable – that in the constructing the Melbourne Convention and Exhibition Centre (MCEC), the design incorporated saving this maritime infrastructure. The pumphouse is 3 storeys tall, constructed in a light timber framed building clad with corrugated iron. In recent times the Pump House has been surrounded by a modern steel and glass structure which is part of the Melbourne Convention Centre structure The general physical condition of the Pump House is good considering its age of approximately 110 years.
MMHN encourages you to look for it when next in the vicinity – from footpath level near the Polly Woodside or inside the MCEC on the higher viewing. Given the land value in Southbank, we are fortunate indeed that this evidence of maritime industry glories on Southbank were saved from development. Dry docks along south bank of the Yarra River were a key part of the infrastructure to support the shipping industry in Melbourne from their establishment in 1868 until closure in 1975.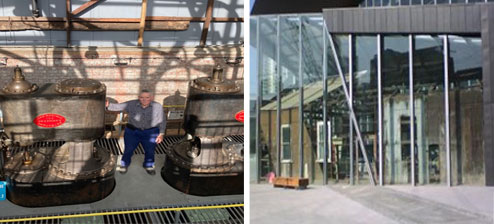 Image: EA. From the footpath near the Polly Woodside.
10. Ghost Net Action
MMHN is delighted to see any political action to tackle the scourge of ghost netting – even retrospectively.
Federal Member for Lingiari, Marion Scrymgour MP:
"The coastline of northern Australia has one of the highest global densities of ghost net pollution. Queensland's Cape York Peninsula and the Northern Territory coastline south of the Gove Peninsula are identified as key hotspots for foreign ghost nets. Up to 15,000 ghost nets have been reported in the Gulf of Carpentaria in the last 10 years". 
Every year, lost or abandoned fishing gear drifts into the Gulf of Carpentaria. These nets can be more than six kilometres long, weigh over ten tonnes, and travel great distances with the tides and ocean currents. Ghost nets entrap turtles, dolphins, sharks, seals, and other fish – and take 100s of years to break down. Minister Plibersek says, "Abandoned fishing gear has been killing marine animals on an industrial scale. A series of projects funded by $14.8m Federal funds in the Gulf of Carpentaria, has to date removed 95 ghost nets and over 50,000 kg of marine debris."
Other NT projects within a range $400,000 include: trialling new beach clean-up equipment and removal, technology to granulate marine debris to make it easier to transport and recycle; ghost net detection using satellite imagery enhanced by AI predictive capabilities and aerial surveys using drone technology to monitor ghost net locations and a specialized vessel for the removal of ghost nets within the Groote Archipelago. See: Deadly Ghost Nets
Worth noting too that discarded recreational fishing gear on this island nation of ours is part of the problem.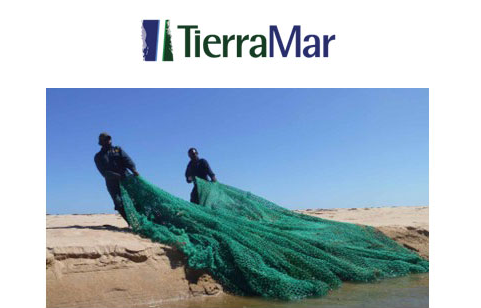 Image: Photo by Leigh Harris: Wik and Kugu Rangers, Aurukun, removing net from shores of western Cape York.
You may seek further information from TierraMar, established in 2008, is a registered charity that applies nature-based solutions and other innovative approaches to secure a future where people and nature thrive together. We focus on Australia, the Pacific, and the Coral Triangle.  See: Tierramar
11. Tackling Fishing Tackle
Minister for Outdoor Recreation, Sonya Kilkenny, recently announced $1.5 million project through recently launched a $1.5 million project to deliver 60,000 Little Anglers Kits to Grade 5 students in more than 1,900 Victorian schools later this year. Kits will include a fishing rod, tackle box and a Kids' Guide to Fishing and basic fishing information – how to, and where to fish. Close to the CBD, families might like to check out a most informative fishing website specifically on Docklands. See: Fishing Mad
MMHN advocates that a brief information on Victoria's rich maritime heritage should be an appropriate inclusion in the Little Anglers Kits. MMHN's plan for the Maritime Experience Centre (MEC) on top of a re-vamped floating Central Pier be encircled by a public promenade deck from which the public can enjoy recreational fishing! See: Maritime Experience Centre
Fisheries Officers are employed to encourage participation by visiting schools to talk about safe and sustainable fishing. 13,000 school children visit the in Queenscliff Marine and Freshwater Discovery Centre every year. See: Discovery Centre
Recreational Fishing is a favourite pastime of many Victorians but is also "big business" vital for regional communities and regional jobs. The State Budget allocated $96 million investment in making Victoria's fish supply completely self-sustaining. Incrementally improvement of maritime infrastructure pier and jetties will also enable better recreational fishing. A reminder that fishing skills are a significant aspect of our maritime heritage. The oldest fishing method is likely to have been the use of spears to catch fish possibly 40,000 years ago used by early humans as a way to supplement their diet with protein. Various forms of vessel evolved of the centuries designed to target particular fish. Various specialized nets or traps evolved as a more sophisticated fishing strategies. Many such 'clever' catching methods resulted in over-exploitation, species loss, and pollution. Discarded recreational fishing gear is part of the problem. fishing lines, ropes, hooks, bait baskets and nets are all too often found discarded on piers, wharves and beaches after being snagged or discarded by recreational fisher people.
VRFish is the peak body for recreational fishing with 150 affiliated clubs and 150 individual members. See: VRFish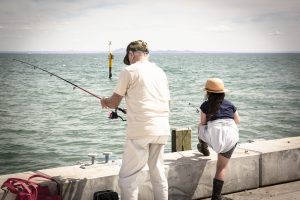 Image: VRFish website
12. Shrinking Fish
Sad news for all fishing enthusiasts. Recent research by Assoc. Prof of Animal Ecophysiology, Timothy Clark, Deakin University reported in the splendid Melbourne-based electronic news daily "The world's fish are shrinking as the climate warms. We're trying to figure out why".
As the oceans warm, fish around the world are getting smaller. Commercial fish species in the North Sea have declined in size by around 16% in the 40 years to 2008, as water temperature increased by 1–2℃.
This 'shrinking' trend is alarming because billions of people are sustained by fish – a major food source around the world. The 'temperature–size rule' is put forward to account for warmer water causing 'shrinking' fish. Fish gills access oxygen in the water and these do not grow at the same pace as the rest of fish bodies. Fish use more oxygen in warmer water but their gills don't get any bigger. Once a fish reaches a certain body size, its gills can only supply enough oxygen to keep its body running. There is insufficient oxygen left for further growth. So in warmer water, fish reach the limit of their growth at a smaller size – hence the 'temperature–size rule'. 
See: Fish Shrinking
13. Oyster Farming in Victoria
The Gunaikurnai Land and Waters Aboriginal Corporation and the Victorian Fisheries Authority are commencing a 3-year trial of Sydney Rock and Angasi oysters both endemic to the Gippsland Lakes.
Viability, growth rates and eating quality of the two species, both of which are native to East Gippsland waters. due to the similarities of East Gippsland to the neighbouring states of New South Wales, South Australia, and Tasmania, thriving oyster aquaculture industries are worth over $100 million combined. Angasi is a premium species, almost identical to the French Belon, regarded as one of the finest eating oysters in the world. Angasi oysters are cultured in increasing numbers by licensed aquaculture farmers in Port Phillip and Western Port. There are approximately 3,000 Gunaikurnai people, on country which include the coastal and inland areas to the southern slopes of the Victorian Alps. Gunaikurnai people are made up of five major clans.
See: Oyster Trial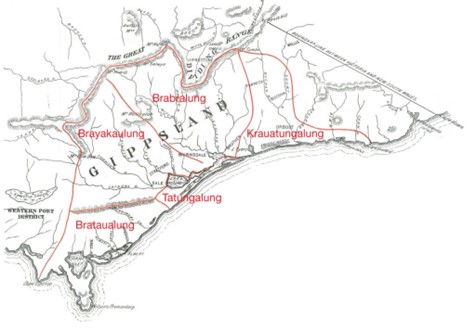 Image: This map shows the Traditional areas of the five Gunaikurnai clans as approximated by A.W. Howitt in the 1880's.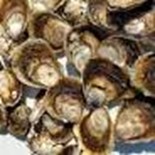 Image: Agasi Oyster
14. Whales – Good News
More Citizen advocacy successes. According to the Icelandic Govt website (translated from Icleandic): The whaling season due to commence in June, is now postponed until 31/8. The Minister of Food, Svandis Svararsdottir stated that In light of strong opinion of the professional Council on Animal Welfare. If whales are 'animals' then the Animal Welfare Act and the Whaling Act laws apply. Unless conditions under the laws are guaranteed then the govt. cannot license whaling. Public opinion is now overwhelming against whaling is in Iceland. It is harder to set out in September and there is no license for 2024, Icelandic whalers hunt both fin whales and minke whales in their waters.
MMHN is mindful that whaling is immensely significant to Iceland's proud seafaring tradition. Support for whaling, amongst older people and those living in coastal and rural areas is based upon the perception that whaling is akin to fishing and therefore, part of Iceland's proud heritage as a seafaring nation which harvests its marine resources. So the what is a fish and what is a whale has been at the crux of the matter – and the Japanese market for whale! Fortunately, the demand is diminishing.
See:  Stop whaling

Image: ABC Reuters, Iceland Animals Society
15. International Waters
Various incidents or more accurately disputes have been reported recently seg See below Taiwan Strait.  Perhaps useful to check definitions – "The terms international waters or transboundary waters apply where any of the following types of bodies of water transcend international boundaries: oceans, large marine ecosystems, enclosed or semi-enclosed regional seas and estuaries, rivers, lakes, groundwater systems, and wetlands". See: International waters.
In 1958 the Convention on the Territorial Sea and the Contiguous Zone stated that "Every State has the right to establish the breadth of its territorial sea up to a limit not exceeding 12 nautical miles, measured from baselines determined in accordance with this Convention." Conventions are one thing – interpretation of Conventions is quite another matter.
Andrew Tillett reports in from the Shangri-La Security Dialogue (AFR 5/6) on an interpretation in relation to the Taiwan Strait. "China's Defence Minister, Li Shangfu told the US and its allies to stay out of China's territory, following a near collision between a Chinese a US warship and Canadian vessels in the Taiwan Strait on Saturday [3/6] The US and Canadian vessels were travelling international waters when the Chinese vessel cut directly ahead of it, coming within 137 metres of a collision.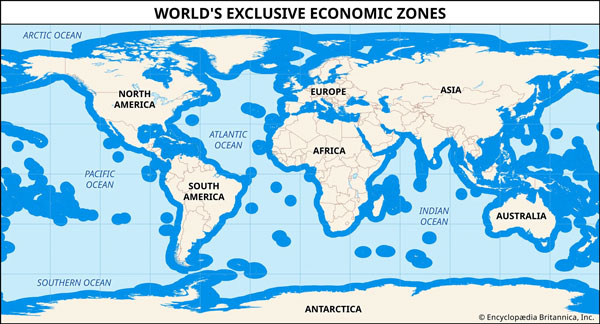 Image: Wikipedia
16. Pacific Islands, Australia, New Zealand – Policy
Continuing with international maritime relationships, the Australian Strategic Policy Institute released a Report in May in which it is argued that Australia, New Zealand and the US should help create an ASEAN-style forum for Pacific Island nations to discuss security and manage geopolitical challenges. Obviously territorial sovereignty and enforceable economic zones are a concern.
See: ASPI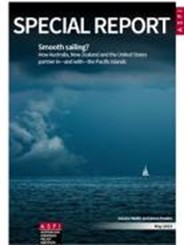 17. Inspirational Heritage Waterway Infrastructure Restoration – Netherlands
By way of inspiration perhaps for those of us seeking change in relation to maritime infrastructure. Here is an example of successful citizen advocacy in the city of Utrecht, Netherlands, successfully achieved restitution of 'neglected or lost' heritage assets.
MMHN ponders: Can a parallel be drawn between the neglect and loss of heritage-listed Central Pier in Victoria Harbour and the loss of the 6km Utrecht canal ring? Utrecht was founded by the Romans almost 2000 years ago. 900 years ago a moat encircled Utrecht. It became a canal. However, 40 years ago, the allegedly responsible authorities almost destroyed the moat by re-purposing the canal into a motorway, In the late '60s citizen advocacy triumphed. An enlightened sympathetic national government intervened, declaring the canal a 'monument' thus saving the historic canal ring from total and permanent destruction. The canal has now been restored and re-opened.
What about the Victorian Government adopted a similar enlightened sympathetic approach to the eventual ''restitution' of Central Pier and supported the MMHN proposal for a floating replacement Central Pier with a Maritime Experience Centre above and surrounded by a promenade deck and maritime garden.
See: Utrecht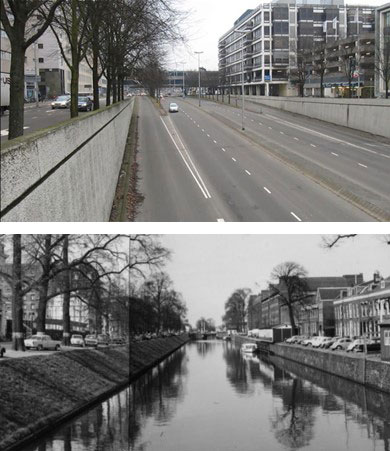 Image: Bicycle Dutch. The Utrecht Rijnkade in 2010 and 1960
18. Cruise Industry – Station Pier
MMHN continues to staunchly advocate that the State Govt should urgently improve Victoria's primary Cruise Terminal Victoria Station Pier. This is, of course, a major objective for MMHN.
Station Pier embodies a major maritime heritage 'story' which remains untold. "Melbourne's history is intertwined with the port's evolution as a trade gateway even before the foundation of the Melbourne Harbor Trust in 1877". A reminder that during COVID in the absence of cruise visitation, many cruise terminal invested heavily in upgrading facilities. Victoria did not. "Port of Brisbane completed its $177m new International Cruise Terminal, Port Authority of NSW upgraded its Overseas Passenger Terminal at Sydney's Circular Quay as well as expanding its Eden shore operation on the state's far south coast" Gladstone Ports Corporation and local authorities set about giving future passengers a better view of the harbour and the Port Authority, Port Kembla and Newcastle." See: Facilities
Station Pier remains amongst the most shabby Cruise Terminals in the developed world. MMHN continues to press government DO SOMETHING! MMHN took the view that post-Covid cruise tourism would boom. It has! Michael Read reports (AFR June 17-18 travel by the 65+ age (Boomers) is booming. and it is reflected in cruise bookings being up 200%. See: Splurge.
It is reported that circa 40 ships will be active in our waters in 2023. In July 2022. Minister for Ports and Freight, Melissa Horne in the report Navigating our Port Futures Strategy (p.36) M tasked Ports Victoria to develop a business case underpinning the future of the Station Pier Precinct informing a new Cruise Strategy within 2 years. There is little evidence of any progress on this urgent matter which is probably due in part to frustration attached to the multiple responsible authorities across multiple ministries needing to act. Reforms action appears to fall between the bureaucratic cracks.
MMHN is calling for a ministerial Champion to urgently step up and broker the urgent action in order to to halt the persistent reputational risk to Victorian toursim. See: Station Pier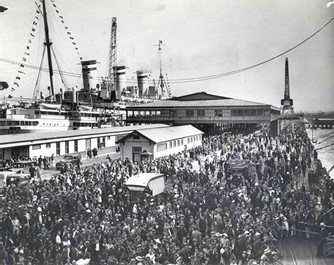 Image: Ports Victoria
19. Heritage Victoria (HV) – a wonderful month of Maritime Archaeology
MMHN is grateful to HV for so generously sharing their expertise and time. Including an excellent presentation by Danielle Wilkinson, senior maritime archaeologist at Heritage Victoria on wrecks of Port Phillip Bay Bay (and there are a lot) and a wonderful basis for the MMHN tour of HV Archaelogical Laboratory soon afterwards in Abbotsford. Officers showcased a range of rare artefacts explaining preservation and restoration as well as new thinking about best-practise wreck protocols. In essence, despite the temptation to collect, leaving fragile maritime artefacts in situ is their best protection in the long-term. Here are a couple of mystery artefacts from the wreck of the SS City of Launceston for you to ponder upon. Clues? See: Shipwrecks.

Image: MMHN
SS City of Launceston operated by the Launceston and Melbourne Steam Navigation Company from 1863, which had an early role in colonial steam shipping as the forerunner of the modern Bass Strait ferry service between Tasmania and Victoria. The drama: About 9 pm, incoming SS Penola (500 tons) struck and ran down City of Launceston which began to settle almost immediately. Passengers and crew transferred with difficulty to Penola. Sunken vessel valued at about 17,000 pounds – not insured.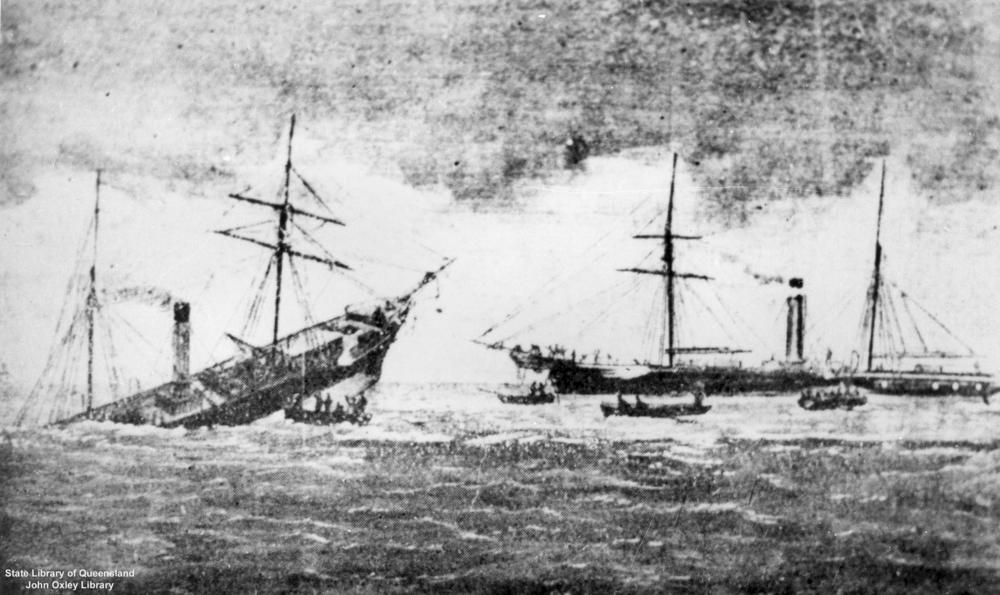 Image: State Library of Queensland.
20. Ferry News
MMHN congratulates Port Phillip Ferries for a maritime heritage initiative – albeit short-lived! During June, Port Phillip Ferries offered a one-hour winter Yarra cruise every Friday departing 11.30 am from the Ferry Terminal, Harbour Esplanade, Docklands offering refreshments and a commentary on the history of the maritime history of Yarra River.
Although a very short trial period, MMHN is hopeful that Port Phillip Ferries will continue to offer such heritage experiences on our waterways dureing the warmer months. See: Ferries.
A reminder that MMHN advocates that the public transport system should incorporate ferry transportation and should be subsidized to the same extent as trams and buses.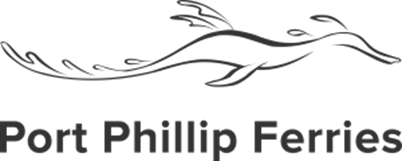 21. Great Ocean Road
The Great Ocean Road Management Reforms were granted an additional $3.9 million over 3 years in the State Budget to continue implementation of the reforms of which will boost tourism, local employment and economic development, and better protect land and seascapes from the impacts of severe weather events and climate change. Regrettably there appears to be no dedicated funding to grow public awareness of our maritime heritage.
You may wish to subscribe to the DEECA news:
Email marine.coasts@delwp.vic.gov.au
22. Port Welshpool
Recent studies of the eastern seawall at Marginal Wharf, Port Welshpool have revealed it to be in poor condition and requiring remediation works to extend its serviceable life. Designs for the works have been prepared and DEECA's Gippsland Land and Built Environment team have been working through the planning and approvals process, with suppliers to be engaged in the coming months. Remediation works on the seawall will improve public safety, have a reduced impact on coastal processes and protect public assets behind the wall.
You may wish to subscribe to the DEECA news:
Email marine.coasts@delwp.vic.gov.au
23. Seaworks – well done
MMHN congratulates all at Seaworks for the magnificent Winter Solstice event this week. Such a marvellous maritime community event on a cold dark Friday. Wonderful array of exhibits, music, food. So much to remind is that Maritime enthusiasm is alive and growing. Well done all!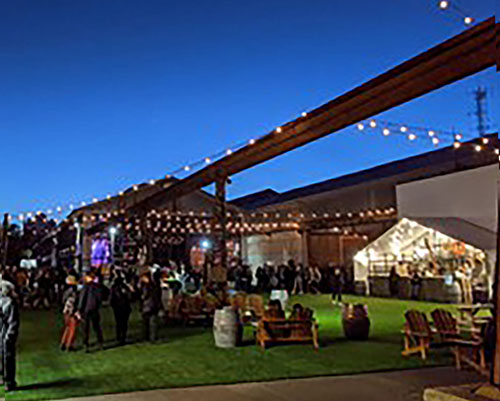 24. MMHN Advocacy
During June MMHN met representatives from the Ministry of Public Transport again in order to press for ferries be incorporated into the public transport system and be subsidized to them extent as trams and buses; met with Ports Victoria to progress promised consultations arising from Ports Strategy Reimagining Station Pier; met with City of Melbourne to advocate for a greater focus on maritime heritage in the Greenline Trail; met with Ministry of Tourism & Major Events to advocate for awareness of the squandered maritime assets & tourism opportunities; met with Australian Mariners Welfare Society (AMWS) Sydney re collaboration; met with Lendlease to discuss historical aspects of appropriate naming on North Wharf and Victoria Harbour; met with Australian National Maritime Museum (ANMM) Sydney) re perceptions on 'Sydneycentricity'; met with The Hon. Nina Taylor MP for Albert Park re Station Pier.
A reminder that MMHN looks forward to hearing from maritime enthusiasts and stakeholders everywhere.
Do email us info@mmhn.org.au
Until next time,
Jackie

Dr Jackie Watts OAM
Chair,
Melbourne Maritime Heritage Network