Greetings
We are delighted at the completion of this MMHN Project. MMHN commissioned award-winning Wild Dog Publishing to produce this hardcover, 40 page beautifully illustrated River to Bay – Victoria's Maritime History which explores our maritime heritage which, of course, resulted great change and prosperity in Victoria over the last 200 years. Prosperity which was essentially based, and is based, on particular geographic attributes including the crucial waterways, These waterways, which sustained our first peoples also attracted exploration and enabled colonial settlement. Former Premier, Ted Baillieu maritime enthusiast, Patron of the Museum Ship Castlemaine and Chair of the Australian Heritage Council together with Nic Reece, Deputy Lord Mayor of Melbourne, launched the book at Docklands Library Theatre on the 19/10.
Please consider ordering the book ($25) to raising awareness in any maritime stakeholders of the future in your life – and help MMHN move on to our next project! Email your order to: info@mmhn.org.au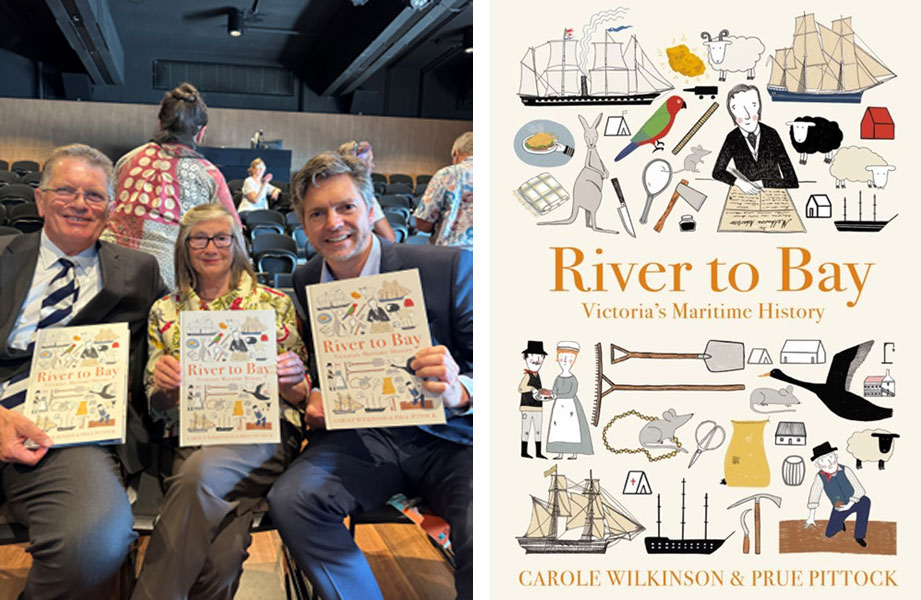 Contents
1. Australian Merchant Fleet
2. Antarctica- Australian Antarctic Strategy
3. Women in the Maritime Sector
4. Maritime Transport of EVs – new safety measures required
5. Chinese Ice-Breaker – new electric propulsion3
6. Company of Master Mariners (Melbourne)
7. Hurricane and tropical storm forecasting
8. Ship Recycling –The Hong Kong Convention
9. Cruise industry – Victoria
10. Sea Water Intrusion
11. Marine Sand Watch
12. Victorian Sand Extraction
13. UK's Offshore Wind Sector
14. Two Bays Whale Project & Port Phillip Sea Pilots (PPSP)
15. Global Ocean Treaty
16. Submarines
17. Piracy – A lesson to be learned?
18. Oceans Behaving Badly – Pacific, Atlantic and PRM
19. Museum Mystery Solved?
20. Heritage Precinct at the Melbourne Boat Show- A First
21. The Wreck of the Amazon
22. Ports Victoria – Voluntary Code of Practice (VCoP)
23. LofA: Bustard Head lightstation
1. Australian Merchant Fleet
MMHN regularly expresses justifiable alarm at the consequences when an island nation such as ours allows its merchant fleet to so dangerously dwindle. Emma Wynne (ABC News Radio Perth (26/10) reports "Australia's merchant fleet has shrunk from 100 ships to 10 over 30 years. In times of disaster, is that strategic?" We repeat – 10 ships! A decade ago, Western Australia shut down state shipping services. Now, in a move to better guarantee supply, the state government is investigating whether it needs to restore maritime lines". Let's hope the federal government and other States are noting this smart move by WA. 
See: ABC News – WA Investigates Shipping Options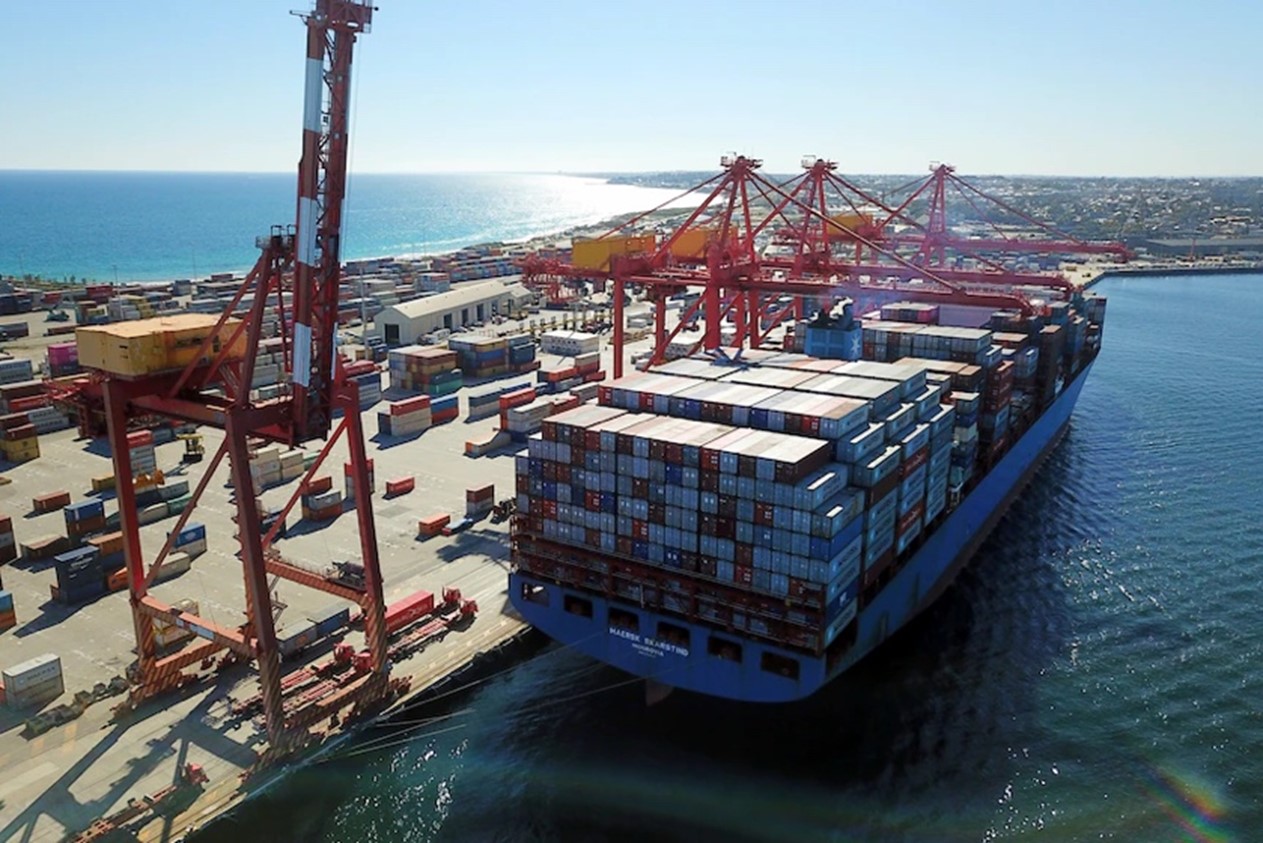 Image: Fremantle Port is the only port in WA that can handle containers.
Supplied: Fremantle Port Authority.
2. Antarctica- Australian Antarctic Strategy
Tasmanian MP Andrew Wilkie recently put a series of important concerns to Minister Plibersek on our Antarctic operations noting the less than optimum Federal management 'this key national – actually world asset. Tasmania is the state at the heart of Antarctic research in Australia. According to Mr.Wilkie "now more than ever before, our Antarctic presence is on thin ice. All levels of Government need to get serious about protecting Antarctica and honouring our international treaty obligations." .Mr Wilke referred to such issues as budget blow-out, reduced size of the Macquarie Station and operational difficulties with Australia's new Antarctic research vessel. Antarctic science is highly collaborative, bringing together researchers from across Australia and around the world. For research undertaken by Australian and international researchers, see: Australian Antarctic Program project database
Minister for the Environment and Water, Tanya Plibersek responded to Mr.,Wilkie's concerns, confirming staunch Federal support for Antarctic matters including scientific and environmental oversight in recognition of Australia's role in many international treaty bodies including:
Also see: Andrew Wilkie: Antarctica
and https://www.antarctica.gov.au/news/
3. Women in the Maritime Sector
MMHN congratulates the Waterways Branch of the City of Melbourne for once again hosting a Women on Water Breakfast at the Melbourne Boat Show. A reminder that MMHN convened the very successful "Women in Maritime Industry Sector Forum" pre-COVIID. So – a request please?
If you are a woman, or know of any women, involved in any capacity or in any role – including volunteers – in the Maritime Sector, MMHN would be grateful if you could email info@mmhn.org.au
4. Maritime Transport of EVs – new safety measures required
The number of EVs transported by vessels has increased in recent years. However, there are concerns regarding fires in their lithium- batteries due to difficulties in extinguishing and the risk of re-ignition. Guidelines for the Safe Transportation of Electric Vehicles and List of Fire Safety Measures for the Maritime Transportation of Electric Vehicles to support the enhancement of the safety of maritime transportation of electric vehicles.
On 31/8 ClassNK had released a a timely Technical Information TEC-1239 titled "Improvement measures to reduce the damage generated by fire accident on large size Vehicle Carriers -Effective use of fixed foam fire-extinguishing systems-" to provide information on this emerging danger. Currently nothing to address this issue, which can be commonly applied worldwide at the international level. The International Maritime Organization (IMO) Sub-Committee on Ship Systems and Equipment (SSE) to begun discussions on the matter in March 2024. The IMO hoping to have formal regulations developed and ready to take effect sometime before the end of 2027.
See: Class NK: Guidelines for the Safe Transportation of Electric Vehicles
5. Chinese Ice-Breaker – new electric propulsion
Moving on from EV transportation- In August 2023, ABB reported that it had received an order from the Guangzhou Shipyard International to supply an Azipod® DI propulsion system for the new compact icebreaker (GSI) of China's Institute of Deep-sea Science and Engineering. It is understood that the new vessel will to be delivered in 2025, after which it will begin to carry out operations in the Arctic and Antarctic Oceans.
This is reportedly a complete electric propulsion system, including two 4.5 MW Azipod® units capable of driving the vessel through harsh weather and thick first-year ice to enable research on behalf of the Chinese Academy of Sciences. The vessel will be 103 metres long, maximum speed 16 knots, draft displacement circa 9,200 tons, and icebreaking capacity of 1.2 metres ice and 20 cm snow at a continuous speed of two knots. The vessel is designed to operate both bow first and astern in ice with an enhanced Polar Class 4 (PC4) ice-breaking level. With cruising range of 15,000 nautical miles the icebreaker can accommodate a crew of 80.
Azipod® propulsion is a gearless steerable propulsion system where the electric drive motor is housed within a pod outside the ship hull. Azipod® units can rotate 360 degrees, increasing manouverability and operating efficiency of vessel, while cutting fuel consumption by up to 20 percent compared to conventional shaftline systems.,  From its creation three decades ago to its market leading position in global shipping today.
See: ABB – Azipod and Ice classed Azipod Propulsion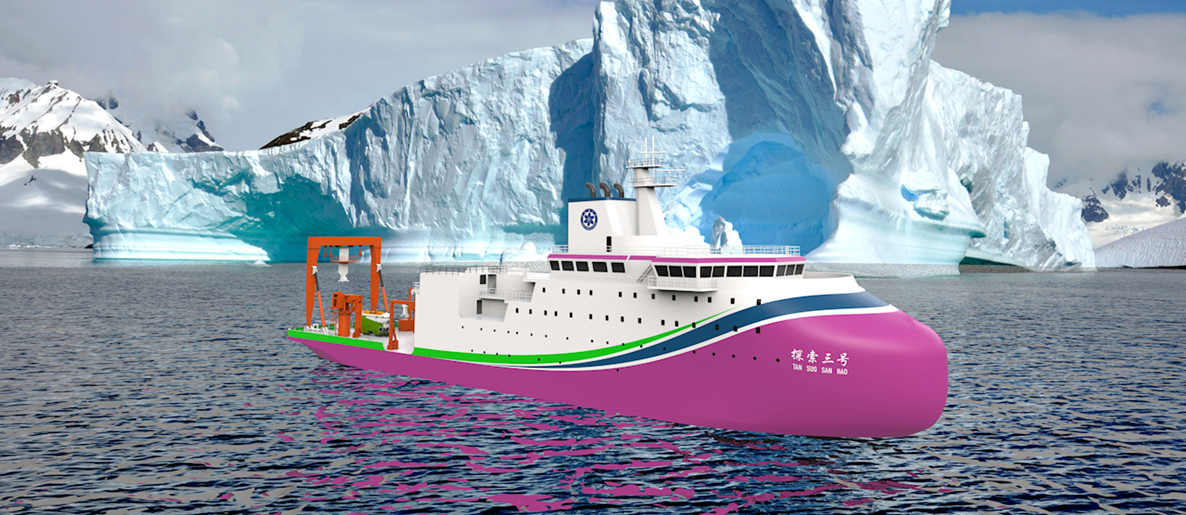 Image: ABB website
6. Company of Master Mariners (Melbourne)
MMHN is firmly of the view that maritime networks REALLY matter!
We thank Rudy Rietwyk, Honorary Secretary, Company of Master Mariners of Australia (Melbourne Branch) for sharing the International Federation of Shipmasters Associations (IFSMA) Newsletter, a rich source of information – and fine sentiment. Within the Newsletter preparing us for the item below – IFSMA Secretary General Jim Scorer remarks appropriately "I send you fair winds and a following sea" .
MMHN has paraphrased several important items below.
7. Hurricane and tropical storm forecasting
MMHN is firmly of the view that maritime networks REALLY matter! We thank Rudy Rietwyk, Honorary Secretary, Company of Master Mariners of Australia (Melbourne Branch) for sharing the International Federation of Shipmasters Associations (IFSMA) Newsletter, a rich source of information – and fine sentiment. Within the Newsletter preoaring us for the item below – IFSMA Secretary General Jim Scorer remarks appropriately "I send you fair winds and a following sea," MMHN has paraphrased several important items below:
Orbiting satellites orbiting the earth provide continuous provide key data for the US National; NOAA Polar-orbiting satellites fly over the storm about twice a day at a lower altitude, carrying microwave instruments that reveal storm structure. Hurricane Specialists at NOAA's National Hurricane Centre (NHC) analyse satellite imagery, other observations, and computer models to make forecast decisions and create hazard information for emergency managers, media and the public for hurricanes, tropical storms and tropical depressions. Forecasting remains and inexact science. Each storm is different, and given no one 'model' can be right every time, specialists' experience with different 'models' is crucial to making the best forecast. On average the NHC forecasts are more consistent and have lower error rate, than the individual global 'models' used in track forecasting. Every 6 hours NHC will issue updated text and graphics that include track and intensity forecasts for the following 5 days, storm surge watches and warnings, coastal tropical storm and hurricane watches and warnings for wind, along with the chances of and time of arrival of tropical storm force winds at specific locations. A potential storm surge flooding map, peak storm surge graphics, and storm surge watch/warning graphic are included. NHC also posts the same information on social media to ensure a wide distribution. Great service.
See: https://www.nhc.noaa.gov/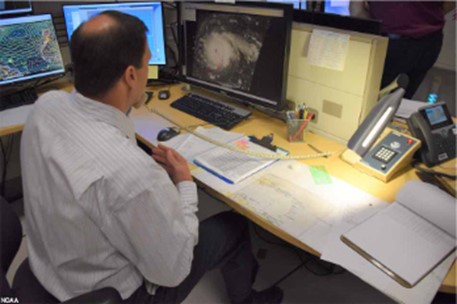 Image: NOAA/Dennis Feltge. HC Warning Coordination Meteorologist and Senior Hurricane Specialist Dan Brown.
8. Ship Recycling –The Hongkong Convention
Almost all ship recycling worldwide is carried out in 5 countries: Bangladesh, China, India, Pakistan and Türkiye, 3 which – Bangladesh, India and Türkiye – are Parties to the Hong Kong Convention.
The Hong Kong Convention is aimed at ensuring that ships, when being recycled after reaching the end of their operational lives, do not pose any unnecessary risks to human health, safety and to the environment. The Hong Kong Convention was adopted in 2009 at a diplomatic conference held in Hong Kong in 2009. It embraces the "cradle to grave" concept, addressing all environmental and safety aspects relating to ship recycling, including the responsible management and disposal of associated waste streams in a safe and environmentally sound manner. The Convention places responsibilities and obligations on all parties– including shipowners, ship building yards, ship recycling facilities, flag States, port States, recycling States.
Specific participant conditions prior to adoption included: not less than 15 States; not less than 40% of the world's merchant shipping by gross tonnage; and ship recycling capacity of not less than 3% of the gross tonnage of the combined merchant shipping of those states mentioned above. Assuming the participatory conditions are met, the Hong Kong Convention will enter into force on 26/6 2025.
See:  http://tinyurl.com/24dvwfjd

9. Cruise industry – Victoria
Media reports that Station Pier is to be upgraded to receive Virgin Cruises vessel Resilient Lady in December 2023. The vessel, built in Genoa in 2023, has 17 decks. It can accommodate up to 2860 passengers and 1160 crew. Larger than some towns.
See: Virgin Cruises
10. Sea Water Intrusion
"Drinking water that contains even 2% seawater can increase blood pressure and stress kidneys. If salt water gets into supply lines, it can corrode pipes and produce toxic disinfection by-products in water treatment plants".
There are different including lateral intrusion from the ocean; upward intrusion from deeper, more saline zones of a groundwater system; and downward intrusion from coastal waters. While in some cases, the damage caused by seawater intrusion can be reversed; in many cases, seawater ingress can cause significant irreversible damage.
11. Marine Sand Watch
MMHN often reflects on environmental concerns in relation to aquaculture – but we seldom think of 'SAND' as a critical element in global environmental and sustainability. Sand is the planet's most mined material, with some 50 billion tons extracted from lakes, riverbeds, coastlines and deltas each year.  Sand extraction puts coastal and seabed ecosystems at risk, including marine biodiversity affected by water turbidity and changes in nutrient availability and noise pollution. More than 1 million dump trucks per day.  Coastal or near-shore extraction can also affect the salinization of aquifers and future tourist development. Sand plays a strategic role in delivering ecosystem services, vital infrastructure for economic development, providing livelihoods within communities and maintaining biodiversity. Sand mining/dredging is linked to all UN 17 Sustainable Development Goals (SDGs) either directly or indirectly. Despite the strategic importance of sand, its extraction, sourcing, use, and management remain largely ungoverned in many regions of the world, leading to numerous environmental and social consequences that have been largely overlooked .In 2019 the UN reported  "Sand and sustainability finding new solutions for environmental governance" (UNEP 2019) raised the awareness on this issue..Despite sand being the most used solid material – 50 billion tons per year, global attention about the sheer scale and impact of sand extraction remains limited. "Sand and Sustainability: 10 Strategic Recommendations to Avert a Crisis" UN is consolidate the expertise in sand and sustainability from different sectors to bring attention to the impacts from the current state of extraction, use and (mis)management, putting forward recommendations for actions to set the global sand agenda in addressing environmental sustainability needs alongside justice, equity, technical, economic, and political considerations. In September 2023 UNEP/GRID-Geneva launched the Marine SandWatch*, a global platform designed to monitor large vessels engaged in dredging activities in the  marine environment. Marine Sand Watch receives support from the University of Geneva and funding from the Swiss Federal Office for the Environment. The platform builds on research that UNEP/GRID- Geneva has been conducting with its research partners, Global Fishing Watch, the University of California Santa Barbara, and Google. The platform identifies:
Dredging vessels around the world.
Areas where sediment is being extracted.
Estimation of volume of sediment extracted.
Other types of activities (e.g. cleaning channels, and reclamation projects).
Global maps are provided for the following types of activities:

Maintenance dredging.
Sand trading at ports and hubs.
Potential capital discharging.
Potential sand mining and concessions.
Total activities, number of vessels, number of operators, and sediment extraction by 200 nautical mile zones
See: https://unepgrid.ch/en/marinesandwatch and Marine Sand Watch
12. Victorian Sand Extraction
Sand-Mining Victoria Victoria's mineral sands deposits occur a long way from the modern coastline. Their locations reflect the presence of former inland seas and associated coastal processes that occurred tens of millions of years ago. The potential for mineral sands was first recognised in the Murray Basin of northwest Victoria by the Geological Survey of Victoria in 1969.
In the 1940 mining operations began on the Kurnell Peninsula (Captain Cook's landing place in Australia) to supply the expanding Sydney building market. It continued until 1990 with an estimate of over 70 million tonnes of sand having been removed. The sand has been valued for many decades by the building industry, mainly because of its high crushed shell content and lack of organic matter, it has provided a cheap source of sand for most of Sydney since sand mining operations began. The site has now been reduced to a few remnant dunes and deep water-filled pits which are now being filled with demolition waste from Sydney's building sites. Removal of the sand has significantly weakened the peninsula's capacity to resist storms. Ocean waves pounding against the reduced Kurnell dune system have threatened to break through to Botany Bay, especially during the storms of May and June back in 1974 and of August 1998. Sand Mining also takes place in the Stockton sand dunes north of Newcastle and in the Broken Hill region in the far west of the state.
See: Wikipedia: Sand Mining
and Earth Resources: Mineral Sands Exploration in Victoria
13. UK's Offshore Wind Sector
This report looks at how the UK government initiated, designed and implemented offshore wind policy in the years 2010–2016.
The Development of the UK's Offshore Wind Sector 2010 – 2016 policy report is available from the APO: Analysis and Policy Observatory.
14. Two Bays Whale Project & Port Phillip Sea Pilots (PPSP)
The Two Bays Whale Project is a citizen science initiative designed in 2015 to formalise what has previously been the informal but mostly robust recording of sightings of large cetacean species within Port Phillip, Western Port and adjacent waters (Barwon Heads to Inverloch). As a long standing and environmentally committed presence in Port Phillip and Westernport's marine environment, Port Phillip Sea Pilots are keen participants in the "Two Bays Whale Project" . Pilots and Launch Crews will keep a sharp eye out and contribute to the current data set which dates back to 2000 with some supplementary sightings from previous years back to 1984.
This project will have the capability to provide a repository for fin, fluke (humpback), lateral jawline and callosities (southern right) photographic identification imagery. You too can become involved in the project.
See: Dolphin Research Institute: Two Bays Whale Project
15. Global Ocean Treaty
Following two decades of discussions, the implementing agreement to the United Nations Convention on the Law of the Sea (UNCLOS) on the conservation and sustainable use of marine biological diversity of areas beyond national jurisdiction (BBNJ) – or High Seas Treaty – is the world's first cohesive, international and legally binding framework to specifically protect high seas biodiversity. Often characterised as a lawless wilderness, the high seas have been poorly managed by a range of regulatory bodies with varying mandates and limited effectiveness.
The lack of coordination, fragmented coverage, and dearth of clear rules on how to effectively protect these global commons has left them vulnerable to overexploitation and pollution, compounded by the effects of climate change. Whilst UNCLOS established a general obligation on nations to protect the marine environment, there have been major gaps in its provisions and their implementation.
In March 2023, history was made when the United Nations finally agreed on a new Global Ocean Treaty. The High Seas Alliance is aiming for at least 60 countries to have ratified the High Seas Treaty by the UN Ocean Conference by June 2025.
See: High Seas Alliance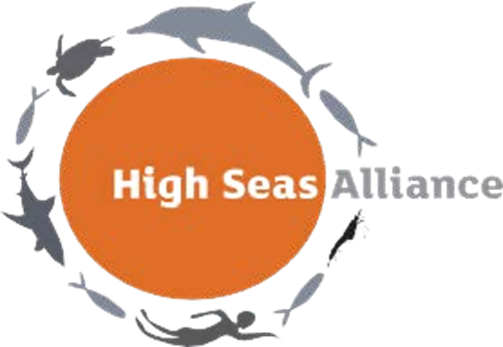 16. Submarines
The ABC (26/9) reports "HMAS one of Australia's oldest Collins-class submarines recently suffered an on-board electrical fire while at sea. Defence Department secrecy surrounds worrisome incident adding another element to submarines being the "silent service". Former Senator and submariner Rex Patrick commented "
The ABC (26/9) reports "Electrical fire emergency hits ageing Collins-class submarine at sea" HMAS Farncomb, one of Australia's oldest Collins-class submarines recently suffered an on-board electrical fire while at sea. Defence Department secrecy surrounds worrisome incident adding another element to submarines being the "silent service". Former Senator and submariner Rex Patrick commented "Fires are very dangerous on a submarine because they let off toxic fumes, you've got to get them under control really, really quickly." 
HMAS Farncomb is the second of the diesel-electric Collins-class fleet to enter service for the Royal Australian Navy after being commissioned in 1998.
See: ABC News: Collins Class Submarine Electrical Fire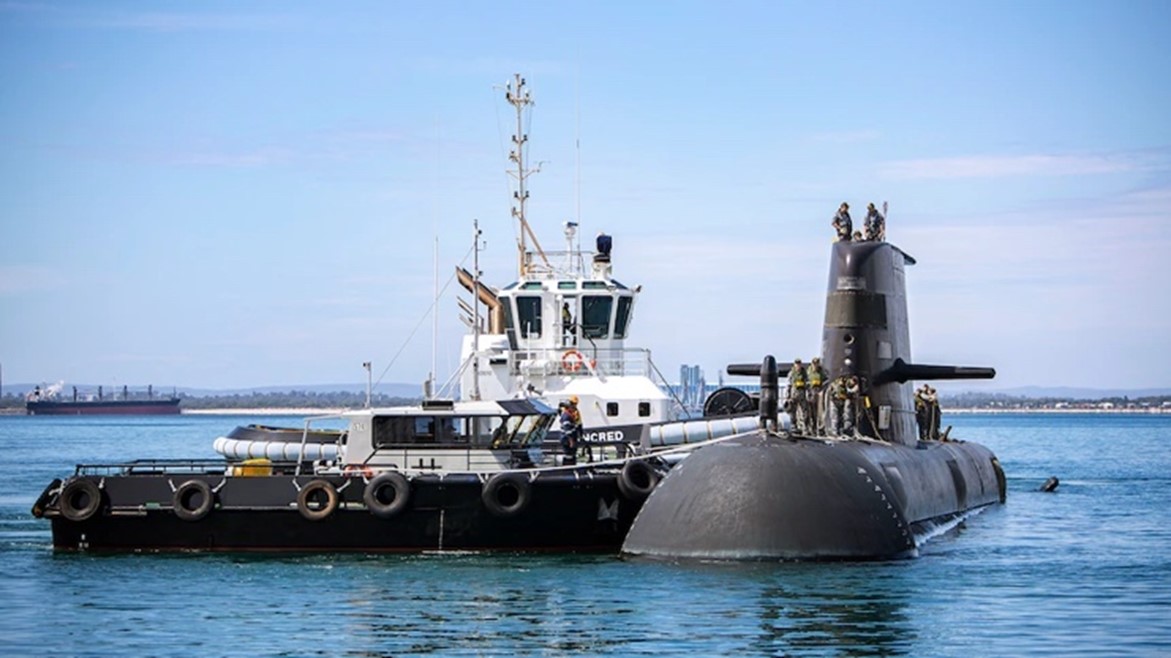 Image: Defence Department
17. Piracy – A lesson to be learned?
Armed pirates hijacked ships as far away as 1,000 nautical miles from the Somali coast.(The Conversation, September 27). They held the ships and crews for ransom.
The World Bank estimates that Somali pirates received more than US$400 million in ransom payments between 2005 and 2012. And then there was an astonishing turnaround. The solution came about by harnessing national and commercial endeavour – self-interest investment in collective public good. The number of attacks fell to 10 in 2012 and only two ships were hijacked between 2013 and 2023. 
Somali piracy, once an unsolvable security threat, has almost completely stopped. "In 2011, pirates carried out 212 attacks in a vast area spanning Somali waters, the Indian Ocean, the Red Sea and the Gulf of Aden, actions that the World Bank said cost the world economy US$18 billion a year. Why did such a wide scale 'Big business' fade? Academics and practitioners agree that acting collective action solved a problem which proved to be beyond the capability of separate actions:
Anti-piracy naval operations by the world's most capable navies, including all five permanent members of the United Nations Security Council: the United States, the United Kingdom, France, Russia and China.
Implementation of costly self-protection measures, not least the use of armed guards, by most flag states and shipping owners
Development of a comprehensive legal toolbox enabling pirate prosecution and imprisonment
Regional capacity-building making it possible to imprison pirates regionally and in Somalia.
See: The Conversation: Somali Piracy
18. Oceans Behaving Badly – Pacific, Atlantic and PRM
Pacific Ocean: The Bureau of Meteorology recently announced that Australia is now experiencing an El Nino weather phenomenon. During an El Niño event, sea surface temperatures over the central and eastern Pacific become warmer than normal. The normal easterly trade winds weaken and sometimes, the winds will switch and blow from the west to the east! There will be an impact on shipping.
"Shipping must brace for less cargoes transiting the Panama Canal and across many rivers worldwide, while container carriers face the prospect of losing more boxes overboard in the Pacific as the El Niño weather pattern takes hold later this year.
See: Splash Extra: Shipping Braces for El Nino.
Atlantic Ocean: The Atlantic Meridional Overturning Circulation, or AMOC is a system of currents in the Atlantic Ocean that bring warm water northwards where it then cools and sinks. It is a key reason why Europe's climate has been stable for thousands of years, even if it's hard to recognise this chaotic summer as part of that stability. New, though not unanimous, findings published in the journal Nature Communications suggest the AMOC, could collapse within the next few decades – maybe even within the next few years – driving European weather to even greater extremes.
"At the same time, peculiar patterns of sea surface temperatures have appeared across the North Atlantic. Across great swathes of the ocean from the tropics to the Arctic, temperatures have persisted 1°C-2°C above or below normal levels, for months or even years on end. These patterns appear to exert a strong influence on the atmosphere, even influencing the path and strength of the jet stream.
See: The Conversation: The Atlantic at Risk of Circulation Collapse
Parametric Rolling Motion (PRM): MMHN thanks the Port Philip Sea Pilots (PPSP) for alerting us to this phenomenon (PRM) – observed from time to time beyond the Heads in Bass Strait.
In certain sea and wind conditions, cargo shipping is seriously dangerous, unpredictable, unsafe and damaging. Episodes of PRM are generally short-lived but cause tremendous damage and loss of cargo – and even capsizing. Very scary for crew. The World Ship Society from time to time captures scary images of vessels observed coping with Parametric Rolling off our coasts.
To get a sense of this phenomenon, we suggest you look at videos.
Eg. PRM a and PRM b
19. Museum Mystery Solved?
One trigger for establishment of MMHN was the universal puzzlement amongst maritime heritage stakeholders at widespread 'amnesia' in relation to Melbourne's irrefutable status as a great port city – past, present and future. Perhaps the reason for this absence in Melbourne of Maritime Museum generally a feature of many other comparable Port Cities, has been identified?
MMHN Board member Michael O'Brien recently located a fascinating explanation. When you see this video you will quickly form the view that it is due to decades appalling and politicised planning decisions. Comparable port cities invest in and thus optimize the value of cultural heritage- including maritime. Despite our relative prosperity, Melbourne has not have not. I hasten to add MMHN is attempting to change this. Watch and weep. Well done Phillip Mallis for your excellent research.
See: Museum missing?
20. Heritage Precinct at the Melbourne Boat Show- A First
As befits a Heritage 'Network' MMHN committed to fostering on collaboration and connection across the entire maritime sector. We are delighted to have had ,for the first time, an the opportunity to engage with the wider commercial and recreational boating sector as well as the public during the Melbourne Boat Show on Victoria Harbour, Docklands. . MMHN Board Member Steve Walker CEO of BIA (Vic) arranged for dedicated Maritime Heritage Precinct to feature at the Melbourne Boat on North Wharf located primarily at the Victorian Wooden Boat Centre and with Heritage Fleet alongside.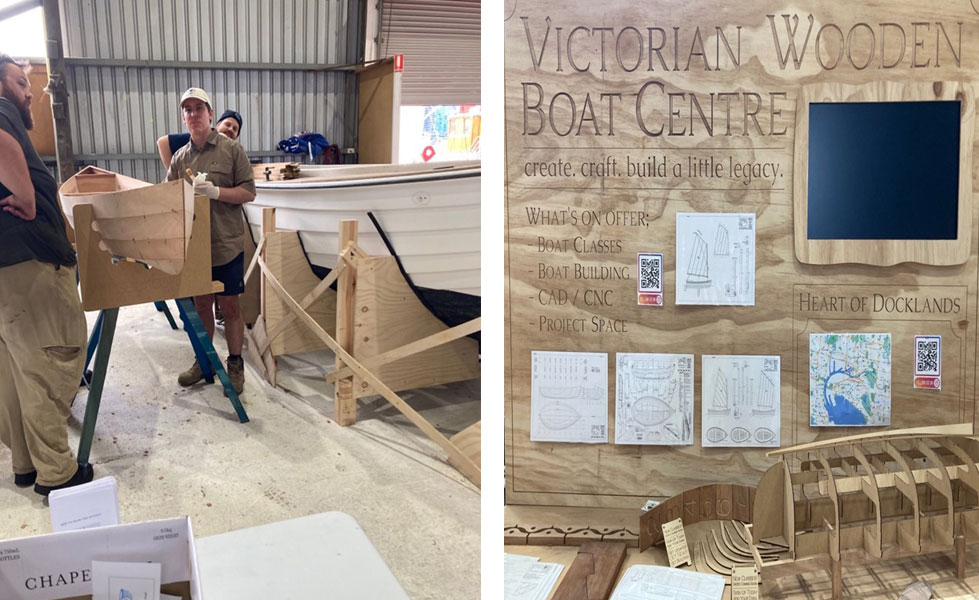 Images: Jackie Watts
21. Wreck of the Amazon
Heavy rain in October resulted severe gouging in the banks of the aptly named 'Wreck Creek' at Inverloch. This gouging exposed the port side of Amazon.
The Amazon 1863 Project Inc reports that "Ribs can be seen poking out either side of the erosion monitoring post and on the western side, oak sections of wreck 'flooring' are again revealed. 
Such sightings are infrequent – and very exciting!!
22. Ports Victoria – Voluntary Code of Practice (VCoP)
Note that this impacts on us all, port infrastructure planning, decision making and practises impact on the quality of life in all communities located close to the multiple ports of Victoria.. Minister for f Ports and Freight, The Hon Melissa Horne MP recently released the Voluntary Code of Practice (VCoP). Praveen Reddy ,Executive Director, Freight Victoria reports that this primarily relates to landside container supply chain' and the ongoing efforts to enhance efficiency and performance of the Victorian commercial ports sector presenting:
an overview of its function and the importance of monitoring supply chain performance to enhance awareness, transparency, and early detection of disruption.
the decision-making principles that underpin monitoring and responses related to disruption events, and
actions that support the management of disruption which industry may consider in preparation of response plans.
To access complete report, see: Ports Victoria: Voluntary Code of Practice
While you are at it – you may wish to have a closer look at the following.
A warning – The complexity is overwhelming.
Port of Melbourne, Summary of key findings Port of Melbourne
See also: Victorian Commercial Ports Strategy, Sustainable Local Ports Framework, Strategic Review of the Victorian Empty Container Supply Chain, Port Rail Shuttle Network, Western Interstate Freight Terminal at Truganina, Port Rail Transformation Project, Port of Melbourne Container Logistics Chain Study
23. LofA
MMHN notes that maritime stakeholders everywhere should be grateful, not only for this marvellous account of Bustard Head by Ian Clifford below, but also the note that we very nearly lost this and other maritime infrastructure treasures remain In very remote locations.
See: https://lighthouses.org.au/loa-members-page/
Bustard Head. Near the Town of 1770 QLD
MMHN thanks Ian Clifford( LoA reports on Bustard Head.: named by Captain James Cook in 1770 in honour of a bustard (wild turkey) which was shot and eaten by the landing party. Bustard Head is within the Eurimbula National Park about 20 klm NW of The Town of 1770.The 18 metre lighthouse located SE tip of Bustard Head, an island which is separated from Middle Island by the 'Jenny Lind' Creek, an isolated and remote location even today. Bustard Head was the first lighthouse constructed by the QLD government after its proclamation in 1859. It marks the southern approach to Port Curtis now known as Gladstone Harbour which extends from the mouths of the Boyne and Calliope Rivers. Cape Capricorn lighthouse (1875) on Curtis Island to the north. After it was de-manned in January 1986 the station was left to the elements but even worse, the vandals. In a few short years the Bustard Head station buildings were approaching a ruinous state and certain loss.
Bustard Head Lighthouse Association established by former lighthouse keeper Stuart Buchanan and the assistance of Neil Mergerd and his LARC' (amphibious vehicle) documented the history of Bustard Head producing a book titled "Lighthouse of Tragedy" covering 118 years of manned presence. In 1865 the Queensland government placed orders with Hennet Spinks and Co of Bridgewater, England for manufacture of a prefabricated cast iron tower and Chance Brothers for the second order lantern and optic apparatus. With all equipment delivered by April 1867 a contract to construct the Light and ancilliary buildings was awarded to WP Clarke. Owing to various delays including weather, labour and site conditions, construction took ten months, four months longer than anticipated. Both Bustard Head and Sandy Cape (1870) are built on sand which necessitated a design using steel towers. The light was first an oil wick burner on the 29th of June 1868 under the supervision of the first headkeeper, 37 year old ex-mariner Thomas Rooksby who remained at Bustard Head until 1902. Bustard Head was a 3 keeper station, in those times resembling a small village including its own school with teacher appointed. Even with the new light in operation the rocks off Bustard Head remained a navigation hazard. To warn of the danger 2 White kerosine lights on poles were placed a short distance south east of the lighthouse which worked in conjunction with 2 Red sectors in the main Light.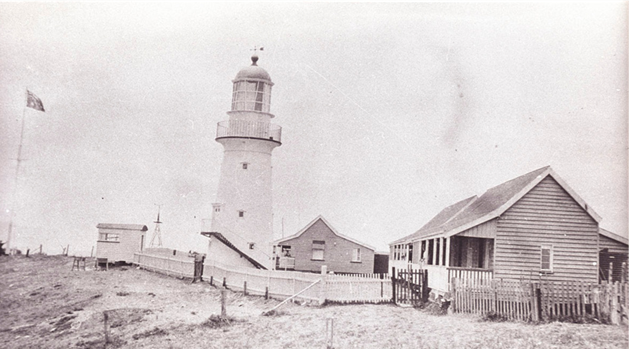 Image: Bustard Head taken prior to the May 1932 fire that destroyed cottages 2 and 3, nearest.
AMSA archives.
Mariners remained unsatisfied with the 2 lights and superintendent Rooksby submitted a design for a new light which was accepted. The new light, constructed by the keepers was located 457 metres south east from the main light. The iron sheeted 5.4 metre square tower was fitted with a fixed 5th order dioptric lens and exhibited a white light which was obscured by screens in front of the tower to cut the light off before vessels approached the rocks. The auxiliary light was a great success and remained in use until a new automatic acetylene light was constructed at Clews Point three kilometres north west of Bustard Head in June 1935.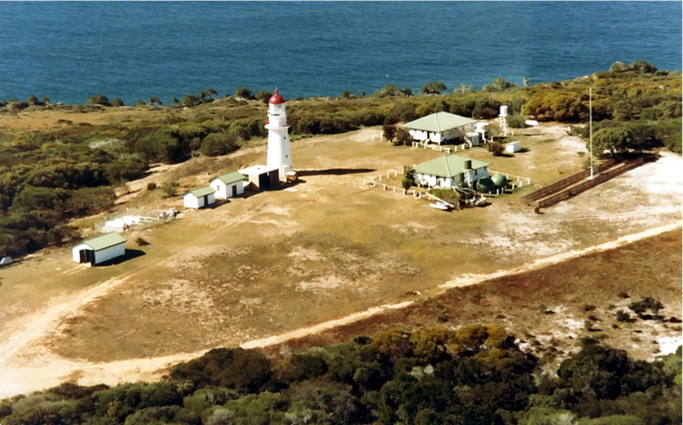 Image: The Bustard Head lightstation 1984. Photo: AMSA archives.
Things became very 'technical' when in 1935 the light was converted from vapourised kerosene to electric operation. The 2nd Order Lens was removed and replaced by a new AGA 4th Order Lens revolving every 40 seconds producing two flashes every 10 seconds. The Red Sector panels were relocated on a platform above the new Optic and illuminated by a fixed electric lamp. Station keepers were reduced from 3 to 2 keepers Night watches were eliminated by the use of alarms connected to the cottages. Reliability was not guaranteed, faults occurred and mechanics needed. Lighthouse ships and store boats were not always available so arrangements were made with the Bowton family on Middle Island to assist with transport and accommodation of mechanics travelling from Brisbane. In October 1905 after just three years as superintendent of Bustard Head, Frederic Bowton died. His widow Katherine who was 23 years younger stayed on with daughters Bertha and Elsie to establish a cattle station on Middle Island. They remained for the next 70 years remaining associated with the Lightstation until 1977 when Bertha and Elsie moved to aged care at Calliope ending their unique lifestyle and lengthy association with the Lightstation.
Bustard Head experienced perhaps more than its fair share of tragedies, the first being the death of a crewman from the vessel Live Yankee in Jenny Lind Creek delivering lime to the construction site. A second death occurred during construction from a blow to the head. An infant son of lightkeeper James Phillips is the first recorded grave in the Bustard Head cemetery located 200 metres west of the lighthouse. The cemetery has nine marked and two unmarked graves. One of the most intriguing and sad stories is the disappearance of Edith Anderson in February 1912. The daughter of lightkeeper Fredrick Anderson, 16 year old Edith had left the station in June 1911 to work as a domestic servant at Turkey cattle station. Edith as a young woman had two admirers one of whom shot dead the other and disappeared with Edith which despite several extensive searches and the offer of a large reward neither her nor her abductor have ever been found. Sadly, just weeks after Edith's disappearance, just weeks after Edith's disappearance Frederick and his wife Mary's 21 year old daughter Ethel suffered an epileptic fit and died. She is buried near her baby sister in the Bustard Head cemetery. In 1939 a 2nd cottage constructed to replace the old headkeepers cottage which was dismantled. Fuel and supplies delivered every 3 months by Lighthouse Steamer.
During WW2 both the main Light and Clews Point Light operated normally unless otherwise directed. A 3rd keeper was posted to the station together with 6 men from the Volunteer Defence Force to assist with continuous watches for aircraft, shipping, submarines and mines. Weather reports were sent in code. Some innovations developed during WW2 were adopted by the Lighthouse Service. Eg. DUKW, a US 6-wheel- amphibious vehicle used by the U.S. military during WW2 and the Korean War. A later version of the DUKW is the LARC (Lighter, Amphibious Resupply, Cargo) an aluminium-hulled amphibious cargo vehicle capable of transporting 5 tons.
A massive public outcry arose when the federal govt. decided to de-man and automate 14 of Australia's then 42 manned lighthouses, 7 in Queensland. By 1998 all Australian lights were automated. In January 1986 Kevin Urban completed the last manual light-up of Bustard Bay. Former keeper Peter Harrison remained on the station as a Caretaker until July . AMSA assumed control of the Light and in 1994 the site was listed on the Register of the National Estate. It took until 2002 for the Bustard Head Lighthouse Association, to gain a lease and begin the enormous task of restoring the station to its former glory. Today the station is museum with many lighthouse artifacts on display in the engine room and headkeepers cottage.

To conclude may I re-iterate – MMHN is a "Network" supporting the invaluable work of other maritime stakeholders in whatever way we can.
Please share your news and your concerns with us via email info@mmhn.org.au
Jackie
Dr Jackie Watts OAM
Chair,
Melbourne Maritime Heritage Network