Greetings
With Jackie taking a well-deserved holiday it has been left to me to navigate the September MMHN update, which is a significant privilege, but also sees me charting a course through new waters.
We have had an interesting and productive month, and we are also lucky to have a number of exciting events to look forward to as 2023 continues it march, including:
– The forthcoming and not to be missed MMHN AGM
– The Melbourne Boat show – with a new expanded Docklands footprint
– Activity in Docklands from Development Victoria with updates on both Central Pier and the Shipping Control Tower
– Williamstown Port Area Action Plan.
But please read on and enjoy.
Jamie Gillingham
MMHN Board Member
Contents
1. Invitation
2. Notice of MMHN Annual General Meeting 2023
3. Central Pier Docklands
4. Melbourne Boat Show
5. Seafarers Happiness Index
6. Williamstown Local Port Area Plan Project
7. Seafaring in the Future – Impact of Technology on Seafarers
8. Convention for the Safe and Environmentally Sound Recycling of Ships
9. Seaworks – Friends of the HMVS Cerberus – collaboration
10. Beyond the Docks: The Oil Rigs Project
11. Point Arena Lighthouse, California
12. Furneaux Maritime History Association
13. Shipping Control Tower
14. Great Barrier Reef World Heritage status – Reprieve
15. Maritime infrastructure – Robur Tea Warehouse – Reprieve
16. Murray River Paddlesteamers
17. GeelongPort – Past present and future
18. World Ship Society
19. JackUp Rigs
20. World Container Index
21. Blue Economy Cooperative Research Centre
22. Global Seaweed market
23. Kelp – Underwater 'Amazon'
24. Kelp Mariculture Project
25. Seabed Mining – Jury is out
26. Swamp Mining
27. Weedy Seadragons, Citizen Scientists and AI
28. World-Class Public Water Transport System
29. Women in Maritime Industry
30. Macdonald Hamilton & Co aka The AGENCY
31. Maritime Skills
32. Docklands Precinct – Looming freight issues
33. Australian Rail Track Corporation
34. Engineering Heritage Australia – more astounding volunteers
1. Invitation
You are invited to see MMHN Patron Dr. Kevin Fewster CBE AM FRSA present "Charting a course – reflections on 35 years at the helm" which covers his extraordinary 35-year international career in Maritime Museums including Director of Royal Museums Greenwich (RMG), the world's largest and most visited maritime museum precinct.
Closer to 'home', Kevin was the founding Director of the South Australian Maritime Museum, Director of the Australian National Maritime Museum and the Powerhouse Museum, Sydney. Kevin will reflect on what are essential elements to consider in a successful maritime museum today and what issues they face.
MMHN is delighted to collaborate with the Royal Historical Society of Victoria (RHSV) in presenting this event of interest to the entire heritage community.
When: 31 October 2023 at 6pm at the premises of the RHSV,
239 A' Beckett St, Melbourne 
Please RSVP to info@mmhn.org.au
2. Notice of MMHN Annual General Meeting (AGM) 2023
When – MMHN's AGM will be held on 31 October 2023 at 5pm at the premises of the RHSV, A' Beckett St, Melbourne. Attendance in person is encouraged, however, if you wish to attend the AGM via Zoom, please email: info@mmhn.org.au
The MMHN AGM will be followed at 6pm by a presentation by the illustrious Patron of MMHN, Dr. Kevin Fewster (see above). In accordance with the MMHN Constitution, nominations for the election of directors are called from individual financial members of MMHN.
For further details, please email info@mmhn.org.au
For catering purposes, please register your intention to attend. Thank you.
3. Central Pier, Docklands
The historic Central Pier is gearing up to move into its next stage, and to help inform this process the team at Development Victoria have released the findings of their 2022 Central Pier Engagement.
The report pulls together the thoughts of the 295 people surveyed on the future of the Pier and helps to identify possible themes and vision statements to be subjected to further interrogation.
Positively, in MMHN's view, a strong underlying theme linking the proposed future of the Pier to its previous industrial and Maritime past has been identified. The MMHN team will be looking to support the continuation of this approach wholeheartedly and take the opportunity to focus discussions around the possible Maritime Experience Centre.
4. Melbourne Boat Show – Docklands
With a new improved and extended format, over 30,000 boating and maritime enthusiasts are expected in Docklands from 26-29 October, where over 80 exhibitors and 1.4km of display will take place.
This year the Boating Industry Association of Victoria (BIAV) will introduce the Heritage and Wooden Boat Precinct. This will take place at North Wharf and will feature Alma Doepel, The Wattle, the Enterprize, The Wooden Boat Association, and the Wooden Boats Centre, MMHN, and a historic ferry ride – free to the show goers.
Watch out for the early September public launch of the event and website, and don't miss the show.
For further details please also see: biavic.com.au
and Melbourne Boat Show 2023
5. Seafarers Happiness Index
A reminder that Seafarers are responsible for transporting over 90% of the world's goods and fuels, and that their wellness is an important consideration for us all.  
The Mission to Seafarers launched the Seafarers Happiness Index in 2015, providing everyone working at sea the chance to share how they feel, and talk about the good and bad about their life at sea today. Published in July 2023 by The Mission to Seafarers, the Index reveals the ongoing impact of COVID-19 on the welfare of international seafarers and their families. The report makes it clear that the seafarer community is in the midst of a mental health crisis.
The report highlights the continuing decline of happiness at sea, largely due to the inability of seafarers to sign off and return home; heavy workloads; virus fears and a perceived lack of COVID-19 precautions on board vessels are exacerbating the decline in satisfaction.
Vessels are sailing with fewer crew, increased sickness onboard and a pressure to keep hygiene standards at almost hospital-like levels. The demands of meeting these standards while also maintaining social distancing are relentless and seafarers are struggling to adhere to new guidance. This level of workload has been relentless since the outbreak of COVID-19 and is clearly taking its toll. Steven Jones, Founder of the Seafarers Happiness Index, commented: "We are in the midst of a welfare crisis.
See: Seafarers Welfare Crisis at Tipping Point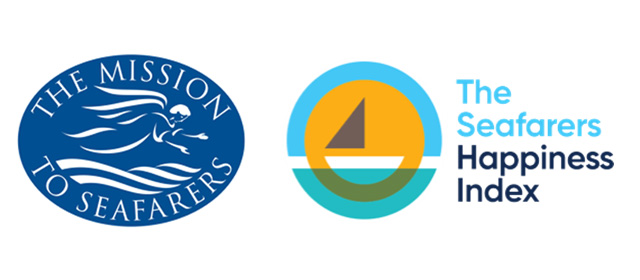 6. Williamstown Local Port Area Plan Project
Parks Victoria have released a draft Local Plan with a view to engaging the public on thoughts and approaches to secure the long-term direction, use and management of one of Australia's most import Maritime locales.
Beyond providing the report, representatives from Parks Victoria will also be on hand at the Williamstown Craft market (17th September) to answer any questions that you might have on the project and its context.
Further details can be found here and the MMHN will be keeping members and partners up to date as this important discussion evolves.
The consultation also includes a discussion around proposed changes to speed limits within the Parks Victoria waterways at Williamstown, so don't miss the opportunity to have your say.
7. Seafaring in the Future – Impact of Technology on Seafarers
On 26 June, the ITF and WMU launched the report "Transport 2040 – Impact of Technology on Seafarers – The Future of Work" at the International Chamber of Shipping's event in Manila.
Key recommendations include providing seafarers with unlimited access to high-quality Internet, promoting social activities onboard, raising awareness about Internet overuse, and encouraging self-management skills for Internet time. Further, the rapid advancement of technology demands enhanced skills and competencies from seafarers.
These requirements encompass industry-specific, technological, interpersonal, managerial, and creative skills. In an expanding global shipping market, seafarers must engage in lifelong learning and adapt to evolving tasks and roles. The transformative impact of technology extends beyond routine tasks to encompass analytical responsibilities, including automated decision-making.
See: WMU Transport 2040 report
8. Convention for the Safe and Environmentally Sound Recycling of Ships
International Maritime Organisation has announced heartening environmental news!  Liberia and Bangladesh have ratified the International Convention for the Safe and Environmentally Sound Recycling of Ships, leading to the convention's implementation.
As the latest countries to join, they meet the requirements for the Hong Kong Convention to take effect in 24 months, on June 26, 2025. The Hong Kong Convention aims to ensure that ships, when recycled, do not pose risks to health, safety, and the environment. The International Maritime Organization praised both countries for their accession and emphasized the significance of this development for the shipping industry, the marine environment, and workers in ship recycling nations.
Bangladesh has made notable progress in improving its ship recycling regulations, while Liberia's accession enhances its regulatory framework. Other member states are encouraged to join the convention promptly.
Abby Williams in The Daily Cargo News, (27/6) reported:
"This is a momentous day for IMO, and it is indeed a historical development for the international shipping industry, for the marine environment, and especially for workers and local communities in ship recycling countries globally." 
The MMHN can't help but agree.
See: International Maritime Organisation
9. Seaworks – Friends of the HMVS Cerberus – collaboration
MMHN thanks all concerned for the welcome news that a flagpole formerly mounted at the Williamstown Senior Citizens Centre has now been installed at Seaworks. The brass plaque mounted next to the flagpole states that:
H.M.V.S. CERBERUS
This flagpole was the original
topmast of HMVS – later HMAS –
CERBERUS
For many years the flagship of
the Victorian Naval Forces.
Built in England 1869
length 225′ beam 45′ draft 15′
Tonnage 3460 tons
De-commissioned
December 1924.Sunk at Half Moon Bay, Victoria
September 1926
—Donated by—
Williamstown Historical Society.
Friends of the Cerberus are to be congratulated on sharing this example of fascinating historical detective work. The initial assumption that the Topmast referred to was the timber mast on top of the 1879 iron mast was incorrect.
"Further research uncovered an Auction notice in The Herald 1/8/1871 listing all of the items being sold that made up the temporary bulwalks and sailing masts erected on Cerberus for the delivery voyage to Australia. The first item listed was "3 lower masts (afloat)" Most likely the word "afloat" meant that they were floating in the water for easy transport.
The bottom metre of one of these masts is on display in the Museum of HMAS Cerberus. As only Lower Masts were listed as being up for auction and not the topmasts it is clear that the topmasts were retained. As Cerberus had two identical signalling masts in Britain on completion it is likely that these became the topmasts for the voyage out and refitted as the signalling masts after her arrival in Victoria. Supporting this is that the topmasts of the Fore and Main masts are the same height. It therefore seems that the topmast donated to the Williamstown Senior Citizen's Centre by the Williamstown Historical Society and then most recently gifted to Friends of the Cerberus was first fitted to Cerberus in Newcastle-on-Tyne as one of her two signalling masts in 1869 or 1868. These two signalling masts were then refitted to Cerberus as her Fore and Main topmasts for the delivery voyage and then refitted as her two signalling masts in 1871. Both of these masts were removed from Cerberus in 1879 when the locally built Military Mast was fitted. Possibly one of the signalling masts was cut down to form the topmast on the 1879 iron Military Mast. Perhaps one of the Signalling masts survived as a flagpole at the Williamstown Naval Depot.
The Williamstown Historical Society is currently examining their records for further information on this mast. As only Lower Masts were listed as being up for auction and not the topmasts it is clear that the topmasts were retained. As Cerberus had two identical signalling masts in Britain on completion it is likely that these became the topmasts for the voyage out and refitted as the signalling masts after her arrival in Victoria. Supporting this is that the topmasts of the Fore and Main masts are the same height. It therefore seems that the topmast donated to the Williamstown Senior Citizen's Centre by the Williamstown Historical Society and then gifted to Friends of the Cerberus was first fitted to Cerberus in Newcastle on Tyne as one of her two signalling masts in 1869 or 1868. These two signalling masts were then refitted to Cerberus as her Fore and Main topmasts for the delivery voyage and then refitted as her two signalling masts in 1871. Both of these masts were removed from Cerberus in 1879 when the locally built Military Mast was fitted. Possibly one of the signalling masts was cut down to form the topmast on the 1879 iron Military Mast. Perhaps one of the Signalling masts survived as a flagpole at the Williamstown Naval Depot. The Williamstown Historical Society is currently examining their records for further information on this mast".
See: https://www.cerberus.com.au/top_of_masts.jpg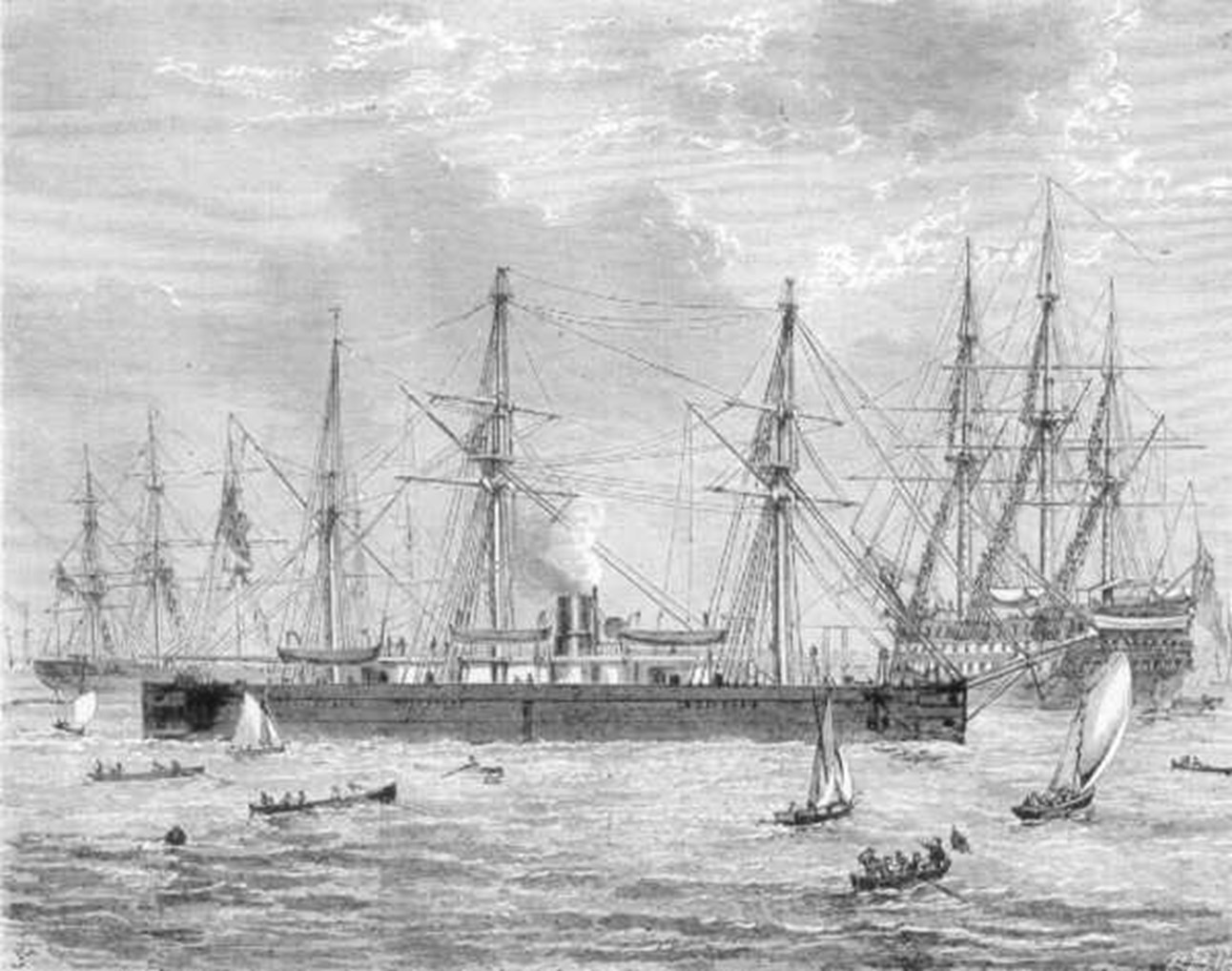 Image: Friends of the Cerberus. Arrival of Cerberus in Hobson's Bay.
10. Beyond the Docks: The Oil Rigs Project
The Beyond the Docks: The Oil Rigs project aims to explore the Bass Strait oil rigs and their history as a 'community landscape' or seascape. Hosted by the Terraqueous curator Valentina Bydanova and early career RMIT photographer Jesse Grey, the project will launch with a public Symposium (5th September) designed for open and critical discussion about the often-invisible oil rig industrial complexes, beyond the bay and beyond our view, which provide 60 percent of Victoria's energy needs.
The audience's questions and conversations about this world-class infrastructure on our doorstep will shape the creative teams' following documentary photographic expedition to capture the world of the Gippsland Basin oil rigs, and their role and future in our community.
The photographs taken, and subsequent outdoor exhibition held at the Docklands, will serve as visual answers to public questions raised about this infrastructure that currently powers our lives.
For further updates on this project and to find out more, please see: www.historyvictoria.org.au/event/beyond-the-docks-the-oil-rigs-symposium/
11. Point Arena Lighthouse, California
With National Lighthouse Day 7th August, MMHN is pleased to report on Director Ross Brewer's recent California trip and visit to the Point Arena lighthouse.
The original lighthouse was built in 1870 but the 1906 earthquake damaged the keepers houses and lighthouse to such an extent they were condemned and then pulled down. Almost immediately a new "earthquake proof" lighthouse was commissioned, and it came into service in 1908 some 29 months after the quake. June of 1977 brought the installation of an automated aircraft-type beacon on the tower balcony, and use of the historic 1st Order Fresnel Lens was discontinued. There has been a number of subsequent changes as technology improved. The area is renowned for the hazardous fog banks that roll in resulting in many shipwrecks over the years especially the sailing ships transporting the Californian redwood timbers which helped build the city of San Francisco.
Today there is a wonderful museum at the lighthouse welcoming visitors and giving the history of the lighthouse and of some of the shipwrecks.
In 1984, a non-profit organization called the Point Arena Lighthouse Keepers, Inc. acquired the Light Station as part of a 25-year land lease from the Coast Guard and the Department of Transportation. In November of 2000, the non-profit group became the official owners of the property due to their diligent historic preservation and educational efforts.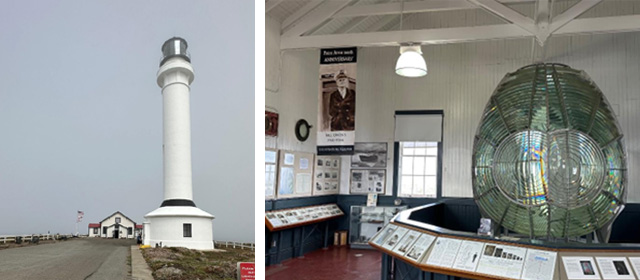 Image: Point Arena lighthouse by Ross Brewer.
12. Furneaux Maritime History Association
MMHN congratulates the Furneaux Maritime History Association which is in the process of acquiring the 36 metre Lady Jillian a 1948-built vessel, which joined the Flinders Island Shipping Co. fleet in 1964.
The vessel become a fixed artifact at the Furneaux Maritime History Centre at Sydney Cove Park in Lady Barron as part of 'Safe Harbour' a joint Flinders Harbour – Flinders Council and TasPorts initiative to improve access for visiting boats and yachts.
Built as an auxiliary ketch for the South Australian Gulfs trade Lady Jillian spent years in the Bass Strait livestock trade between Launceston (Tas), Port Welshpool (Vic) and Whitemark and Lady Barron (Flinders Island).to and from the Flinders Group and Erith Island in the Kent Group. At times large wild cattle were brought aboard by swimming the cattle out from the islands by dinghies, then slinging them onboard, into the main cargo hold below deck. This practice was carried out from many of the smaller islands of the Furneaux Group of which Flinders Island is the largest. Sheep were carried on deck.
Island food and supplies were loaded aboard at Launceston for the return journey to Flinders Island, Rachel Williams reports in the Eastern Advertiser (26/7) the Auxiliary Ketch Lady Jillian has been moored in Launceston since retiring from service in the 1990s.

13. Shipping Control Tower
Good news! MMHN is happy to report action finally on the rapidly degenerating Shipping Control Tower on North Wharf on Victoria Harbour. MMHN has long been advocating to Development Victoria (DV) it should undertake remedial stabilisation works to halt the evident degeneration of this significant maritime infrastructure.
Not a moment too soon – DV has now commenced this process with the release of a Forward Notice: "North Wharf Shipping Control Tower – Remediation Works Contractor –
"DV is seeking to engage a suitable construction contractor to deliver the remediation works to the North Wharf Shipping Control Tower in Docklands. Works will include, but not limited to:
Structure Remedial Works – Re-render external Shipping Control Tower, Concrete repair, Replace all external windows.
Building Services Remedial Works – Make safe electrical, Test lightening protection system to ensure compliance.
This procurement will be conducted via a Selective Tender process from the Construction Services Register involving a 'Request For Proposal' (RFP) forecast for release in August 2023. The construction works are forecast to commence December 2023 pending contractor availability. Bidders must demonstrate their capability and experience on construct contracts and operate under externally certified OH&S and environmental management systems and demonstrate relevant and recent experience completing similar projects including: rendering external structures at height using accredited products;
MMHN notes that "A compulsory site inspection will occur in August 2023, after the release of the RFP".
Once technologically important, recognized and invaluable to Melbourne's shipping, the Shipping Control Tower is now pale comparison to its former standing.
See: https://www.docklandsnews.com.au/control-towers-condition-scrutinised/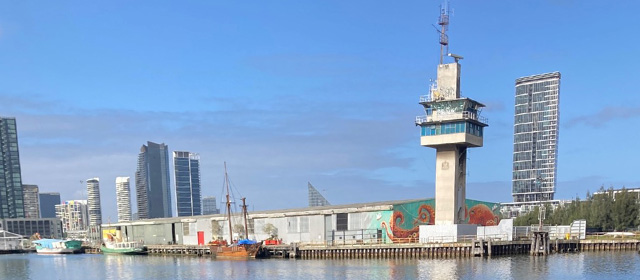 Image: Jackie Watts.
14. Great Barrier Reef World Heritage status – Reprieve
Federal Environment Minister Tanya Plibersek has welcomed the decision by UNESCO not to withdraw the Great Barrier Reef's World Heritage status. Mike Foley (Brisbane Times: 1 /8) reports that according to Minister Plibersek, UNESCO's decision to reprieve the threat to list the Great Barrier Reef World Heritage status on the endangered list "shows that federal government is serious about protecting the reef and acting on climate change. UNESCO had stated in 2021 that the reef had been in danger of losing its World Heritage status; and experts identified that the Morrison government's climate policy to cut emissions 26 per cent by 2030 had been part of the reason for UNESCO's warning.
See: Great Barrier Reef stays off UNESCO danger list
15. Maritime infrastructure – Robur Tea Warehouse – Reprieve
MMHN is relieved and pleased to report Heritage Victoria has ruled that the 135-year-old warehouse's is a building of cultural significance. Melbourne City Council in August last year provided endorsement for 7 integrated towers ranging in height from 3 to 27 levels surrounding the 135-year-old warehouse on three sides.
Steven Avery Director of HV stated in his advice "The combined height, number and density of the tower components and their proximity to the Robur Tea Building would cause substantial harm to the cultural heritage significance of the place and further that "The proposed demolition works to the north, south and west elevations to allow for access between the Robur Tea Building and the proposed development would have adverse physical impacts on the cultural heritage significance of the place," HV considered this to be to be "an overdevelopment of the heritage place,"
This is the second time HV have supported heritage over development approaches, however it is reported that the architects and developers are revisiting the proposals.
The Robur Tea House was built in 1887-1888 and at one point was the tallest building outside Melbourne's central business district. The building began life as a six-storey warehouse for Fergus and Mitchell, printer and stationers. It was later used by the Robur Tea Company to store tea chests.
It was entered into the Victorian Heritage Register in 1982 as "one of the finest and most prominent examples of a 19th century warehouse in Melbourne" and one of the few surviving industrial and warehouse buildings that once dominated the south bank of the Yarra River."
See: The Urban Developer: Vic Govt knocks back Robur-Tea-house
& ArchitectureAU: Historic Melbourne Tea House to be Revamped
16. Murray River Paddlesteamers
Good News. Murray River Paddle steamers, with $2.25 million State Government funding support through the Regional Tourism Investment Fund, have commenced construction of the PS Australia Star at Mildura. With a future permanent home in Echuca, and offering year-round, all-inclusive, overnight cruises, heritage enthusiasts will be pleased to learn that the 38-passenger paddle boat costing an estimated $6.75 million will be powered by a hybrid diesel & steam engine in addition to a 1907 steam engine.
The vessel will be largest paddle steamer in the Southern Hemisphere and the only wood-fired, five-star accommodation vessel of its type in the world. It will replace the 16 passenger PS Emmy Lou. The prosaic name PS Australia Star may change in due course.
See: https://www.murrayriverpaddlesteamers.com.au/our-history/
& Murray River Paddlesteamers announce PS Australian Star project
& Luxury paddlesteamer idea floated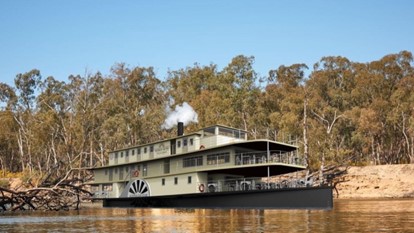 Image: Jackie Watts.
17. GeelongPort – Past present and future
MMHN is always keen to understand ports infrastructure. Re – the past? You may wish to access a free download produced by Port of Geelong the 150-year history https://geelongport.com.au/custodians-of-the-bay/
Turning now to the present and the future? GeelongPort is embracing 'new energy' by developing a Geelong Hydrogen Hub (GHH) aspiring to becoming Australia's most sustainable bulk port and as well achieving emissions reduction targets. The GHH will be a green hydrogen production and distribution facility. Necessary pier infrastructure will be built to facilitate ship operations. See https://engage.geelongport.com.au/geelonghydrogenhub
GeelongPort also has plans pending approvals, to develop up to 25 hectares of land for a Windfarm Project Cargo Precinct located at Oyster Cove near Lascelles Wharf offering purpose-built facilities for the berthing, laydown and construction of equipment for both onshore and offshore wind farm projects.
Since 2018, GeelongPort has facilitated the berthing and laydown of more than two million tonnes of wind farm cargo supporting the construction, operation and maintenance of wind farm projects as well as laydown and storage facilities. The intention is for the first power to come progressively online from 2028.
You may wish to see The Victorian Offshore Wind Policy Directions Paper released in March 2022. https://www.energy.vic.gov.au/__data/assets/pdf_file/0029/580619/Offshore-Wind-Policy-Directions-Paper.pdf
A reminder that GeelongPort is owned by Stonepeak and Spirit Super. Stonepeak, on behalf of its managed funds and accounts, holds a majority 70% interest in GeelongPort and Spirit Super has a 30% stake.
See: https://geelongport.com.au/about/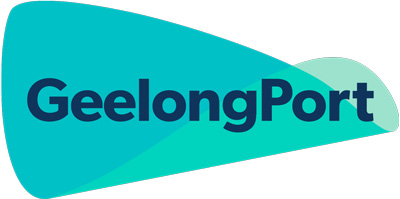 18. World Ship Society
WSS continues to present MMHN all with marvellous images and in-depth descriptions of the astounding variety of merchant vessels sighted around our coast. For example – Below see the Seaway Albatross entering Port Phillip Bay on the 20/6 with the jack-up rig Valaris 107 after a repositioning voyage from Darwin.
Seaway Albatross is a Heavy Load Carrier / Semi-submersible vessel owned by the Subsea7 Group with the ship ballasting down on the 21/6 for the float off. Assisted by the AHTS Go Spica and Go Sirius, she then commenced her tow down to a position 3.4 km offshore from the town of Golden Beach for the Golden Energy Project Storage Project for the drilling of an appraisal well for carbon capture.
Seaway Albatross was originally built in 1991 as the shuttle tanker Tordis Knutsen and converted in China in 2015 and becoming Albatross for OHT – Offshore Heavy Transport. She took her current name after sale in late 2022. Seaway Albatross departed for Singapore shortly after her cargo was offloaded.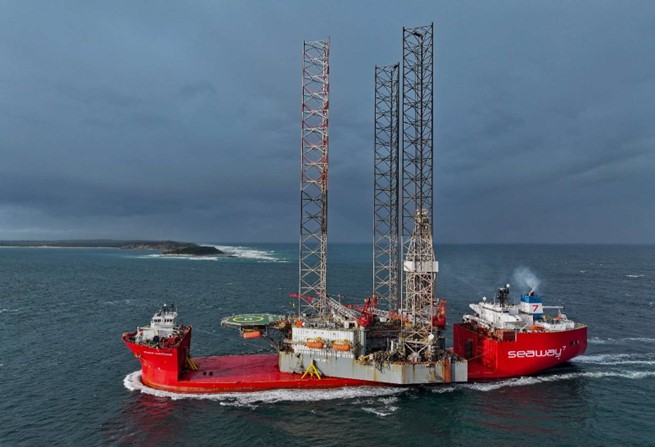 Image: Seaway Albatross beautifully captured by Owen Foley of the WWS.
19. JackUp Rigs?
For those maritime stakeholders without the offshore extractive industries experience, a jackup rig, or a self-elevating unit, is a type of mobile platform that consists of a buoyant hull fitted with a number of movable legs, capable of raising its hull over the surface of the sea. The buoyant hull enables transportation of the unit and all attached machinery to a desired location. Jack-ups are used on offshore drilling rigs, the legs of which are lowered to the seabed from the operating platform (Wikipedia). They come in many forms, and it gets complex.
A jack-up rig (sometime referred to as a jackup barge) is similar to a drilling barge, with one difference. When the jackup rig is towed to the drilling site, three or four legs (that can be raised or lowered independently of each other) are lowered until they rest on the sea bottom.
The single difference between a jack-up rig and platform rig is that pplatform rigs, are fixed atop offshore wells. This is usually achieved through a jacketed spar, tension leg platform (TLP), or gravity structure.
See:  https://www.valaris.com/our-fleet/jackups/default.aspx
20. World Container Index
The World Container Index (WCI) is a global freight rate index that provides a weekly assessment of container freight rates on 11 major trade routes. It is used as a benchmark by shippers, carriers, and freight forwarders to monitor and compare rates across different routes and shipping lines.
WCI provides weekly assessments of container freight rates, daily forward price estimates and a bank of historical price movements. The container freight rates described by the WCI are reports of actual market prices sourced from an international panel of market participants.
The index is a vital resource to all organisations involved in, or with exposure to, the containerised sea freight market; through market transparency it creates opportunities for forward price discovery and risk management which have not been available before. https://globalmaritimehub.com/industry-link/world-container-index
The first international standard for containers was established by the Bureau International des Containers et du Transport Intermodal (B.I.C.) in 1933, and a second one in 1935, primarily for transport between European countries. American containers at this time were not standardized, and these early containers were not yet stackable – neither in the U.S. nor Europe.
In November 1932, the first container terminal in the world was opened by the Pennsylvania Rail Road Company in Enola, Pennsylvania. Containerization, as we know it, was developed in Europe and the US as a way to revitalize rail companies after the Wall Street Crash of 1929, which resulted in economic collapse and a drop in all modes of transport.
For a brief history of containerisation, see: History of Containerization
21. Blue Economy Cooperative Research Centre
MMHN is mindful of the 'delicate balance 'or 'tension' between protecting ocean-based resources and fostering development of them. Hopefully t cooperative maritime research will deliver evidence-based data necessary to secure our future. A fine example is Kelp (3 items down) and the Blue Economy CRC, which brings together 44 industry, government, and research partners from ten countries with expertise in aquaculture, marine renewable energy, and maritime engineering.
You can see the full range of current projects: https://blueeconomycrc.com.au/research/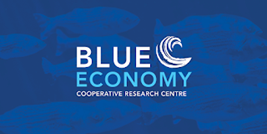 22. Global Seaweed market
Blue economy reports "The global seaweed market is valued currently at >US$6B annually and is growing rapidly, however in Australia the seaweed industry and associated product development is nascent. Several independent analyses have identified considerable opportunities for Australia in building a modern and sophisticated industry based on seaweed production at commercial scale and developing seaweed-based bioproducts." 
See: Developing production systems for offshore kelp mariculture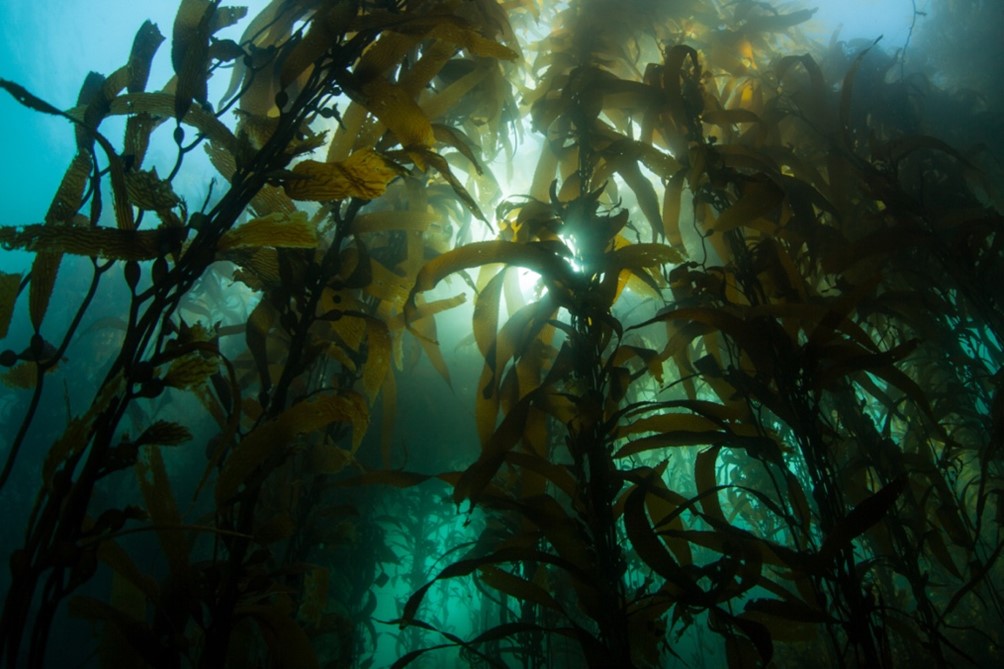 23. Kelp – Underwater 'Amazon'
ABC journalist Asha Couch refers to the vast kelp forests 'the underwater 'Amazon' off Australia's coast that could help tackle climate change. And reports on ground-breaking new research which shows the climate benefits of protecting and restoring underwater kelp forests could be equivalent to planting a billion trees!
The ocean absorbs carbon dioxide from the atmosphere, which dissolves in the water, and is then taken up by seaweed as photosynthesis occurs. UWA and Conservation International, found that the climate benefits of seaweed forests had been grossly underestimated.
Dr Pessarrodona leads the research and details how the protection and restoration of underwater forests around the world could allow for the capture of millions of tonnes of carbon dioxide annually.
The research details how the protection and restoration of underwater forests around the world and could allow for the capture of millions of tonnes of carbon dioxide annually. "We found that it would be equivalent, roughly, to the carbon sequestration capacity of a billion trees". By area, seaweed forests were able to capture and store as much atmospheric carbon as tropical rainforests".
See: ABC News: Great Southern Reef's kelp forests an underwater 'Amazon' that could help tackle climate change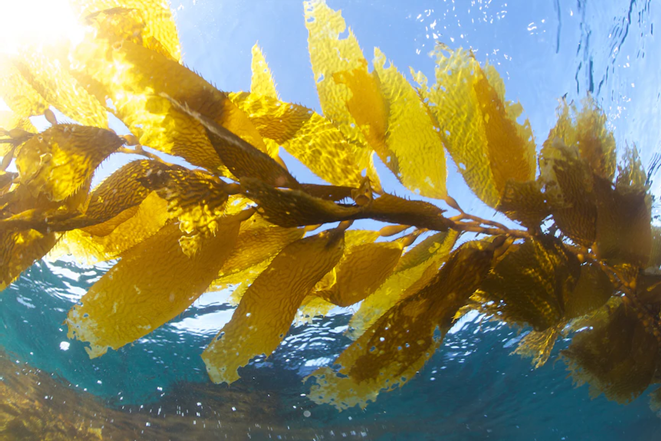 Image Supplied: Conservation International ABC website.
24. Kelp Mariculture Project
The Tasmanian Government has issued a scientific permit to deploy marine infrastructure and kelp species as part of a pivotal research program on growing kelp.
The research site, south of Blackmans Bay and north of the Tinderbox Reserve in southern Tasmania is prime research 'real estate' and also adjacent to a wastewater treatment plant so in nutrient-rich waters and is being used for research into developing new technologies and systems to support potential sustainable, commercial-scale offshore kelp production in Tasmania's temperate waters and beyond.
Phase I of the research was completed in June with infrastructure deployment consisting of three small rings and an underwater array, followed by the successful planting of microscopic kelp on lines. the project team and our local community wait for what we aim to be 10-12 metres of kelp growth in just 12 months. Extract from Blue Economy Cooperative Research Centre.
View kelp planting: https://www.youtube.com/watch?v=sVvHIuzkfKY
25. Seabed Mining – Jury is out
Member nations of the International Seabed Authority (ISA) are to meet in Jamaica for negotiations on whether to establish guidelines for the fledgling seabed mining sector.
Countries pushing for large-scale commercial seabed mining include China, Norway and South Korea, while France and Germany are among those nations for calling for caution on the idea.
Journalist Kenza Bryan (AFR 11/7) writes "of reaching a 'tipping point' in global fight over seabed mining" as interest in commercial seabed mining is growing because of a shortage of battery metals such as cobalt and copper which are critical to a low-carbon future.
The ISA came into existence together with the 1982 United Nations Convention on the Law of the Sea, which codified international law regarding territorial waters, sea-lanes, and ocean resources. The ISA is headquartered in Kingston, Jamaica, and has more than 167 state members.
The ISA's dual mission is to authorize and control development of mineral related operations in the international seabed considered the "common heritage of all mankind" and also protect the ecosystem of the seabed, ocean floor and subsoil in "The Area" beyond national jurisdiction.
August 2 Latest Decision – "The International Seabed Authority's decision to postpone final decision on formal deep-sea mining regulations – likely until 2025 – is both encouraging and a moment for pause," said Conservation International policy expert Lina Barrera. "While it is disappointing that a full moratorium has not been adopted, the current outcome shows that a growing community is committed to ensuring clear, science-backed guidelines are in place should full-scale mining eventually move forward." While environmental advocates broadly see the postponement as a win, the matter is far from over. ISA talks will resume in 2024, with some notable participants, including China, still strongly in favour of deep-sea mining. In the meantime, the council can consider mining applications. However, in the past the ISA has said those applications should be delayed until a mining code is agreed upon.
See: Deep Sea Mining Talks Postponed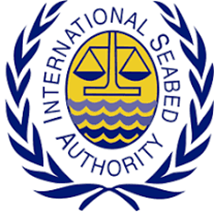 26. Swamp Mining
While MMHN is familiar with draining and excavating swamps in our post-colonial maritime history, (eg Victoria Harbour and re-routing the river) – mining swamps is quite another matter.
A new book entitled 'Enchanted beneath the Bluff: Agnes and Geraldine's pursuit of Elwoods Elusive Black diamonds" which chronicles the lives and interests of Agnes Simmons and Geraldine Minet where the Elwood Swamp met St Kilda's Red Bluff, in which authors Issac Hermans and Heather Arnold's two daring Theosophists seek prosperity in the Colonial Victoria of the 1890's in the midst of the Depression, challenging providence and geology.
Their engine 'Helena' was fired up to bore deeper in search of coal 'black diamonds' reputedly earlier than any other coal exploration elsewhere the world! A little-known aspect of Elwood's history and continues on an earlier work by the same authors.
Access by emailing the authors: marantsen@gmail.com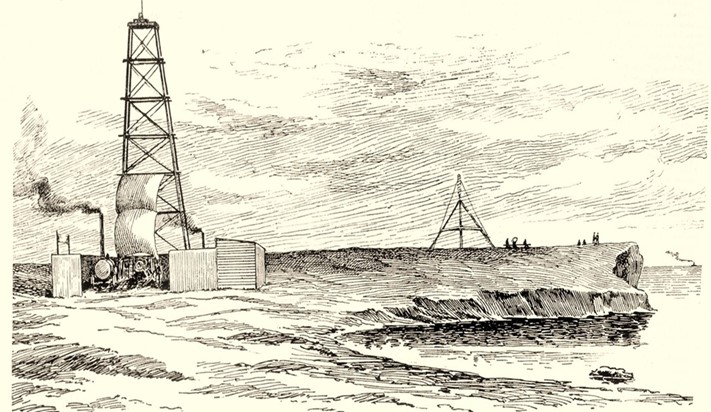 Image: Issac Hermans and Heather Arnold
27. Weedy Seadragons, Citizen Scientists and AI
Facial recognition may be a concern to many of us but perhaps good news for seadragons. Recently reported by the ABC, using AI Facial recognition technology 100s of scuba divers from around the world contributed photos of the animals as part of the Seadragon Search project. Weedy seadragons are found in water that is between 2 to 30 metres deep. Describing seadragons as "a little like a seahorse tipped forward, with tendrils and appendages that look like algae", Dr Wilson said the weedy seadragon was browny-reddish with tiny yellow dots all over.
By using the unique spot patterns found on their faces and bodies, researchers were able to distinguish between different individuals, while a machine learning program helped build up a timeline for each animals movements around Australia's Great Southern Reef.
Seadragons are unique to Australia and are found around the coastline from Geraldton in Western Australia through to Tasmania, with their distribution stretching as for north as Port Stephens in New South Wales.
See: the full story on ABC News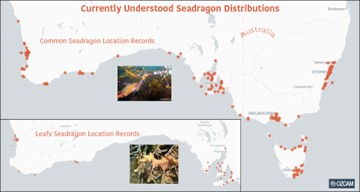 Image: SeaDragonSearch website
28. World-Class Public Water Transport System
In last Month's update MMHN referred to the West Gate Ferry as a tiny step hopefully towards a water transportation re-think in Victoria.
MMHN is gratified to note Abu Dhabi has produced an invaluable blueprint for developing a World-Class Public Water Transport System, and that this document supports the MMHN staunch advocacy to our State Minister for Public Transport Minister Ben Carroll.
We have certainly shared this invaluable White Paper produced by Abu Dhabi with the Minister. "This whitepaper reviews the findings from the strategic consultancy exercise about the success of different cities' PWT operating models. In addition, it examines the opportunities for Abu Dhabi to draw on best practice and avoid repeating the mistakes that have compromised PWT systems in the past. Finally, it aims to show how, with safety, sustainability, and technology as key guiding principles, Abu Dhabi has the potential to deliver a world- class PWT system in the long-term."
The six cities in the review were: Fredrekstaadt, Norway, London, New York, Dubai, Hongkong and Sydney. Cities that have pursued modernisation typically require strong political leadership to argue for longer-term transformative change in the use of public water transport. One of the common success factors across the cities in the study was the level of integration with other modes of transport, with the most successful cities incorporating water transport models into their transport and land use planning policies.
The role of a central authority in managing and planning a city-wide network was evident, with some cities unable to fully develop their PWT systems due to complex land ownership rights and difficulties in coordinating transport services. All six cities saw significant disruption of public transport services over the duration of the COVID-19 public health crisis and are in the process of reorganisation.
See: full report on the MMHN Website


Image: Abu Dhabi report
29. Women in Maritime Industry
MMHN congratulates two women appointed to key positions in Australia's Maritime Industry sector:
Capt. Jeanne Drummond is the new Chair of AMSA. Captain Drummond has been an AMSA Board member since 2020 and is an experienced Harbour Master, Master Mariner and Maritime Industry experience at sea, offshore oil and gas, and in the ports sector, both in operations and development, in Australia and internationally. Jeanine holds an Australian Master Unlimited Certificate of Competency, Bachelor of Business (Maritime Management), Graduate Diploma Maritime Management, Advance Diploma of Applied Science and is an Associate Fellow of Nautical Institute, Member of WISTA, and a Member of the Australian Institute of Company Directors. Jennifer Clark has been Acting Board Chair since the completion of Stuart Richey's term, Jennifer will continue in her position as Deputy Chair.
The AMSA Management and Board Secretariat would like to thank Jennifer for her passionate work in supporting AMSA over this period.
Michelle Taylor is the current President of the Maritime Law Association of Australia and New Zealand (MLANZ) and a partner at Sparke Helmore Lawyers.
Michelle has 25 years' experience as a litigator, Michelle specialises in maritime and transport law with valuable expertise in maritime law, including comprehensive knowledge of casualty and pollution matters.
See: https://www.amsa.gov.au/news-community/news-and-media-releases/new-chair-and-members-appointed-amsa-board
30. Macdonald Hamilton & Co aka The AGENCY
A fascinating account has been published about a really important 'player' in the Australian maritime industry sector pre- containerisation – Macdonald Hamilton & Co – The AGENCY.
Established in 1915 as part of the Inchcape Group's Australian arm the MacDonald Hamilton & Co, was the leading shipping agency in Australia for circa 50 years until the merger between with P&O and Orient Line occurred in 1960.
Macdonald Hamilton & Co was also the Managing Agent for the leading coastal shipping operator Australasian United SN Co (AUSN), for the freight agent for British India (BI) and for E & A. MacDonald Hamilton & Co also managed the Brisbane tug fleet.
As if this wasn't enough the Agency later diversified into engineering, insurance, training, film, timber & construction, mining services, wine and liquor.
Authors Ian Byrne and Bruce McBain worked with MacDonald Hamilton & Co from the late '60s and in writing this account, they collaborated with historian H.W, Dick to explain the complexity of successfully operating 'The "Agency" in pre-containerisation era. It covers a significant period in Australia's maritime history including the Queensland towage operations and mention of the early days of the Offshore Oil Rig supply.
To acquire the book, email: naatreasuer1@gmail.com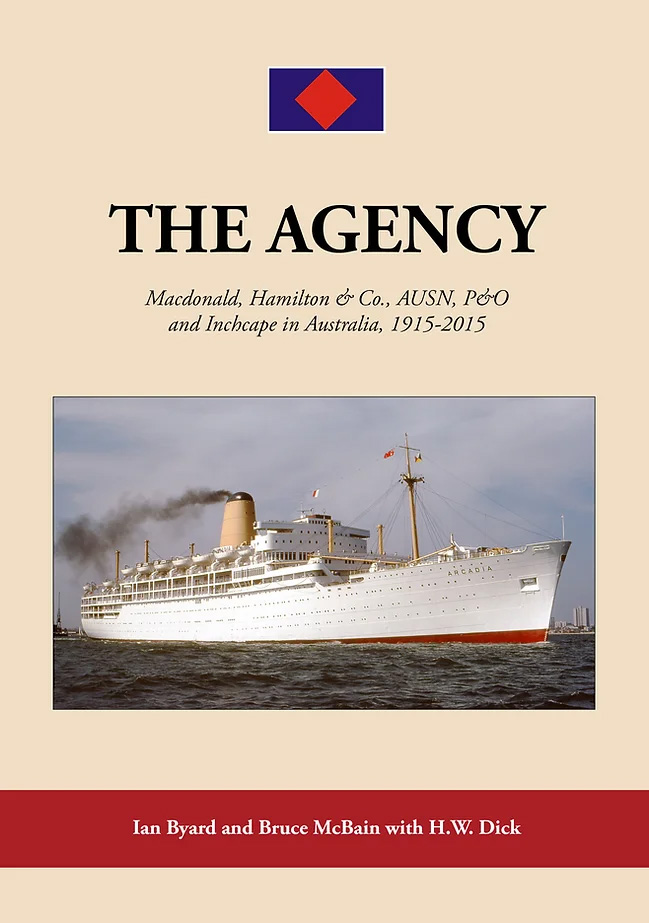 31. Maritime Skills
Rare attempt at forging collaboration at last? It is encouraging to learn of a new approach by the Federal Govt, to forge rare collaboration between the States. Journalist Ben Packham writes (The Australian 27/6) Skills & Training Minister Brendan O'Connor is working towards new hybrid training model in which universities and TAFEs collaborate train workers for the AUKUS submarine program. The UK used a similar strategy – a new approach to training with TAFEs, universities and specific industries deliver training through new centres of excellence.
While MMHN applauds any such policy initiative to grow maritime skills capability, a reminder that MMHN has been advocating for the establishment of a Maritime Skills Specialist Centre in Docklands as part of its Major Strategy for some time now… (see MMHN Objective no.5).
32. Docklands Precinct – Looming freight issues
MMHN is aware that the development of Docklands Precinct is far from complete after two decades. We are also aware, that its close proximity to Australia's largest container port provides an uncertain future as pressure to deliver efficiencies in maritime trade, port logistics and freight, the lifeblood of our economy.
Stephen Miles reports (The SMH/Age26/7) on a "Major Freight Hub Plan" linked to recent purchase of land by The Inland Rail destined to be intermodal freight hub "the largest container freight terminal and logistics precinct in Australia".
On the positive side this intermodal freight hub will boost the efficiency of the port processes, hopefully increasing water traffic activity and take vehicles off the roads and replace with more sustainable an efficient rail freight transportation.
On the negative side: it may add to the argument for the infamous rail bridge across the Yarra and may prompt the expansion of the port in its current location.
Big federal investment 2022-2023 Budget $3.2 Billion for two Victorian terminals is involved, clearly hard and contested decisions are to be made.
See SMH: Inland Rail and Freight Hub Plans
33. Australian Rail Track Corporation
The Inland Rail Project is a 1700km freight rail network that will connect Melbourne and Brisbane via regional Victoria, New South Wales and Queensland.
See https://inlandrail.artc.com.au/what-is-inland-rail/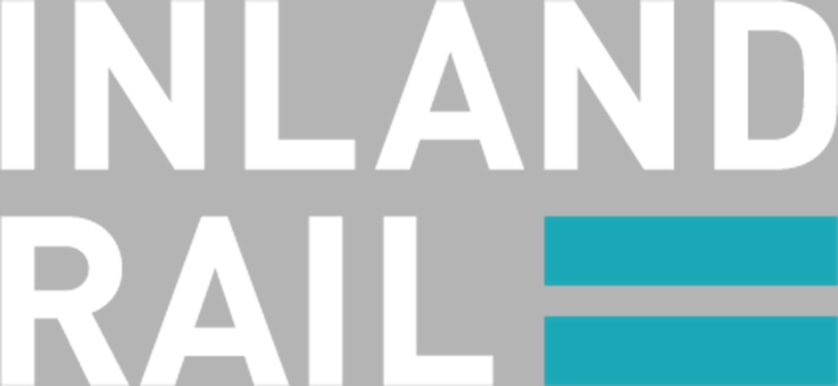 34. Engineering Heritage Australia – more astounding volunteers
MMHN greatly appreciates and delights in the work by Heritage infrastructure volunteers in Engineers Australia.
For example Margret J. Doring, FIEAust., CPEng., M.ICOMOS who recently retired after a decade of editing and producing – the Engineering Heritage Australia (EHA) Magazine. MMHN recommends that you take a serious look, at some of this splendid work.
Here is a link which takes you to Vol.4 No.4 first, and then to all the others, in sequence, back to the first issue of December 2013. For example the excellent article below:
Restoration of Berth No. 5 North Wharf semi-portal cargo crane by Miles Pierce.
"As part of a commercial and residential redevelopment project by Riverlee P/L of the Seafarers Place precinct on the Yarra River adjacent to the Melbourne CBD, the semi-portal crane at Berth No. 5 was recently externally cleaned and its exposed steelwork repainted. The former Port of Melbourne Berth No. 5 on the Yarra River, comprising its section of riverside wharf, its cargo shed, and its semi- portal type cargo crane is listed on the Victorian Heritage Register (VHR) as number H1798. The statement of significance in the VHR listing asserts in part: Berth No.5 North Wharf consists of a shipping berth, a concrete and timber wharf apron, a steel framed cargo shed and an electric travelling crane. The area has been a wharf since 1855 dealing mainly with domestic cargo. The current built fabric dates from the immediate post war era but there appears to be earlier bluestone paving under later bitumen. The 1948 crane was locally designed and built by Malcolm Moore Limited. The berth was made redundant by the closure of the river below the Charles Grimes Bridge in 1975. Multi-use redevelopment that will retain and repurpose the heritage listed cargo shed, refurbish the No. 5 berth and preserve the cargo crane. The heritage related work, and that for the crane in particular, is a collaborative effort between Riverlee, Architects and Heritage Consultants Lovell Chen, and maritime contractor Freyssinet. In the process, the crane has been moved from the west end to the east end of the cargo shed, and its wharf leg partially enclosed. It is not known to what extent, if any, internal restoration work, including to the crane's electrical system, has been undertaken or is yet planned. The crane is one of two 3-ton, semi-portal electric cranes built and erected by Malcolm Moore Limited under a contract let by the then Melbourne Harbour Trust Commissioners in 1946. The crane was used for loading and unloading goods into and out of ship hulls. As a semi-portal crane, its northern (landward) side was supported off a rail mounted above the top edge of the wharf-side wall of the cargo shed whilst the outer (river-side) structure rested on a rail set along the wharf edge. Flanged wheels running along the respective rails allowed the crane to traverse up and down the berth in front of the cargo shed. The crane was electrically powered with wound rotor induction motors used for traverse, slew and raise/lower operations. Drum type controllers in the crane driver's cabin controlled the respective motors and affected speed regulation by inserting or cutting out resistance elements connected to the respective motor rotor windings via slip rings. The 1991 Docklands Heritage Study asserted that Berth No 5, including its extant cargo crane and cargo shed, was: important at State level as the most complete of all the traditional (non-containerised) river berths on the north side of the Yarra River. The Study's recommendation that it be placed on the Victorian Heritage Register was duly effected, as mentioned above. This semi-portal cargo crane is believed to be the only surviving one of its type left in Victoria".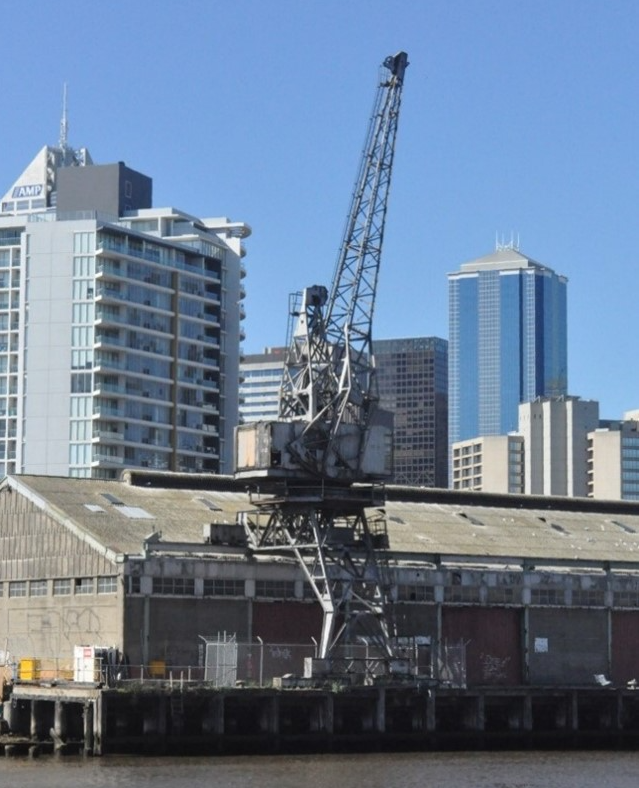 Image: Owen Peake 2019: The crane photographed in 2019
at the east end of the wharf shed.Note how the semi-portal
structure allows the inboard side of the crane to run on a rail
at roof level, thus freeing up the width of the wharf deck.
---
We at the MMHN would be very happy to receive submissions for future updates and comments on the provided contents.
Next month will see the return of Jackie and a return to normal update duties, but thanks for your continued interest in all things Melbourne and Maritime and I hope to see you out on the town at one of our events or ideally on the water.
Jamie Gillingham
MMHN Board Member
Melbourne Maritime Heritage Network
info@mmhn.org.au